Will move for work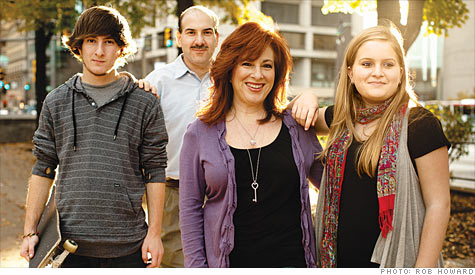 (Money Magazine) -- Ira and Hope Moskowitz, both 44, have lived within a 10-mile radius of Philadelphia their whole lives. City kids, they met in junior high, got married in Philly in 1989, and settled in nearby Cherry Hill, N.J., where Hope manages a hair salon and Ira headed up software administration for a mortgage-servicing firm.
The family -- Josh is 17, Rachel is 14 -- even vacations at the Jersey shore every summer. "If it wasn't for losing my job," says Ira, "we'd be happy to spend the rest of our days in this area."
But as soon as the firm where he worked closed up operations in late 2009, the family realized it may not have the luxury of staying put. The mortgage business has been especially hard hit in the region. So, reluctantly, Ira expanded his job search nationwide, giving particular attention to Texas and North Carolina, where several mortgage-servicing companies are based.
Besides sending out a slew of résumés, he's been networking with far-flung friends and former colleagues. Hope, meanwhile, is researching neighborhoods around Dallas, where two of Ira's co-workers found jobs.
With 10% unemployment the norm nationally and some states hit even harder, more Americans are -- like the Moskowitzes -- considering job prospects away from home. Some 66% of executives polled by job site TheLadders.com in October said they'd move if an opportunity arose, up 11 percentage points from 2007.
The decision to uproot your family for work can be a difficult one even in the best of times. This economy, while providing impetus to relocate, also presents added challenges: Will you have to juggle the costs of two residences? Will you lose money on your old house? Will your spouse find work in the new city?
If you're thinking of making a move -- whether because you're unemployed or just seeking better opportunities -- here's the way to go about it.
Finding the job
Families searching for jobs elsewhere often let fantasy determine where they'll look. The Moskowitzes, for example, imagine themselves in a warmer climate. "I'd like Honolulu," Hope says. Rachel -- who, for a teenager, is surprisingly excited to move -- is pushing for a swimming pool; Josh wants to be able to skate-board year-round. Their preferences have kept Ira's search to the South.
But such narrowcasting is detrimental. "In this economy you have to look for jobs wherever they are," says Cathy Goodwin, career consultant and author of "Making the Big Move."
That doesn't mean heading to Bismarck, N.D., simply because it has the lowest unemployment rate. In fact, it's unwise today to move without a job. It does mean casting a wide net rather than focusing on specific areas. Get the offer, says Goodwin -- then you can fantasize.
To make the search manageable, identify the top 20 or so firms in your industry (or fields to which your skills are transferable), no matter where they're located. Then contact hiring managers directly. Ira should also connect with recruiters specializing in his field; he can find some via the Association of Executive Search Consultants.
Evaluating an offer
Assessing a job offer that requires relocation can be overwhelming. But the financial part of the equation boils down to this: Would you be able to afford a life you'd be happy with in the new place?
You can do a lot to investigate this via the Web. Online calculators can give you a rough idea of how far your pay will go. (For example, to live as well as they did on $140,000 near Philly, the Moskowitzes need only $104,000 in Dallas.)
Also look up income, property, and sales tax rates. And check classified ads to get a sense of job prospects for your spouse, if relevant, and yourself in case the new gig doesn't work out. Home in on a few neighborhoods, factoring in schools if you have kids, then visit realtor sites to see what you can afford.
The Internet won't tell the whole story, however, so also plan on visiting in person -- with your whole family -- to get a feel for the area.
After doing all this, list the pros and cons of moving, both financial (such as higher housing costs) and intangible (warmer weather), says Atlanta financial planner Bobbie Munroe. If you're out of work, also consider whether you're likely to get any better offers. The answer may help put your "cons" in perspective.
Making the move
Before accepting a job, ask the prospective employer for help with moving expenses, temporary housing, and travel. But don't hold your breath. New York recruiter Martin Kartin says that two years ago 90% of his corporate clients helped with such costs, but now it's down to 35%. Have a plan for paying for such expenses if the company won't.
Once you say yes, get your house on the market right away -- it'll probably take time to sell. You may be tempted to rent it out until conditions improve, but don't, says Munroe: "You don't want the added stress of becoming a landlord." (The exception: if you're underwater and would have to come up with money to pay off the loan.) Homes in Cherry Hill are averaging five months on the market, so the Moskowitzes will have to budget for those carrying costs.
No matter how low home prices are in the new city, don't buy right away, cautions Concord, Mass., financial planner Katie Birmingham Weigel. It may take longer than you think to get out from under your old place. And with less debt once you sell, you'll also have a better chance at qualifying for the lowest-rate mortgage.
Further, the job may not last, or the area may not be a good fit. Goodwin suggests the Moskowitzes rent for a year wherever they end up.
A self-confessed worrywart, Ira had been the least eager of his family to move. But as he makes progress in his search -- he recently interviewed with a firm near Atlanta -- his wife and kids' excitement is beginning to wear off on him: "I'm starting to look forward to trying something different, especially now that the cold weather is here."