Toyota's next problem: Lawsuits
NEW YORK (CNNMoney.com) -- Fixing millions of gas pedals and brakes and convincing customers their vehicles are safe could end up being the least of Toyota's challenges. Some experts think the price tag from legal settlements could end up topping the company's estimate of $2 billion in recall costs.
There are already more than 30 U.S. lawsuits filed against Toyota involving the problems with its gas pedals alone, according to Craig Hutson, senior investment grade analyst at Gimme Credit, a bond research service firm. And there are more lawsuits are in the works.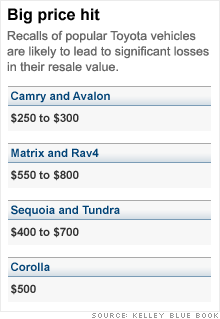 "Lawyers are champing at the bit to get at these guys, and the company has come out and largely admitted mistakes in respect to these issues," said Hutson. "It's hard to put a dollar amount on it, but multi-billion dollar costs are not out of the realm of possibility."
Hutson isn't alone in worrying about how much lawsuits could hurt Toyota. Credit rating agency Moody's cited the litigation risks when it warned Tuesday that it might downgrade Toyota's credit ratings.
The company also faces at least one class action suit involving problems with the brakes on 2010 models of the Prius and other hybrid vehicles. Toyota announced a recall for those hybrids Tuesday.
New reports of problems with the steering of its Corolla could mean more lawsuits against Toyota.
Safety experts estimate official complaints involving Toyota gas pedals show there have been 19 fatalities involving the recalled vehicles.
But Gary Robb, an attorney in Kansas City who is looking at filing cases, says he believes that number will increase significantly as people look more deeply into accidents for which no cause was ever determined.
"We've had so many calls from so many people now that this news has come out," he said. "Accidents that were heretofore attributed to driver error are very likely due to a malfunction of the gas pedal. There's going to be dozens of those incidents arising."
Cases involving death or serious injury will likely be handled in individual lawsuits.
Suing to reclaim lost value. Robb said he's also looking at a class action case to try to recover billions of dollars he claims were lost in the resale value of the recalled vehicles. He said his experts estimate total losses could be in the $6 billion to $8 billion range. "For many people their car is their second largest investment," he said.
Other experts suggest that the loss in resale value is not as high as Robb's figure, but that it is still likely in the billions.
Kelley Blue Book, a leading used-car value service, is lowering its estimated prices for the recalled models this Friday by 2.5% to 3.5%. That's enough to lower the value of each vehicle by between $250 and $800.
The National Highway Transportation Safety Administration estimates that more than 6 million U.S. vehicles are affected by the recall. So based on Kelley Blue Book's estimates, the overall loss in resale value is likely to be at least $2 billion.
Toyota wouldn't comment on its legal exposure from the recalls. As to the reduction in resale value by Kelley Blue Book it said, "Historically Toyota and Lexus vehicles have held their value very well relative to other vehicles. We expect that to be true in the future as well."
It's not clear whether courts will allow plaintiffs to collect that much money. James Henderson, a law professor at Cornell University, said legal precedent is against them.
But Henderson does think the recall opens Toyota for a rash of new personal injury cases. He added that if it is determined that Toyota knew of problems with the gas pedals and did not warn a driver involved in an accident, the company could be hit with punitive damages.
Hutson said beyond the cost of any jury verdicts or settlements, the lawsuits have the potential of causing continued damage to Toyota's reputation, keeping the problems and company's failures in the news. That could cost the company additional sales going forward.
He said if any documents come out which prove Toyota engineers knew something needed to be fixed, it will be difficult for Toyota to ever regain consumers' trust.
"When your image is one that has been largely built on quality and dependability, you can't afford that kind of smoking gun," Hutson said.