Mission critical - Turn Detroit into a tech center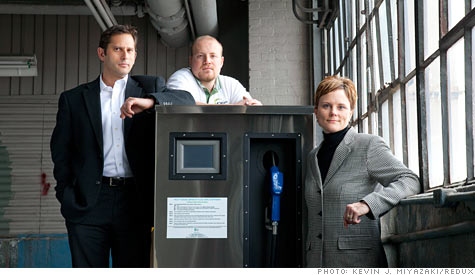 (Fortune Magazine) -- Crammed into a small Detroit office filled with pipe fittings, hydraulic tubing, and a device that looks like a gas pump combined with a supercomputer, Dave Shaw sums up how his life has changed.
Tipping back in a cheap office chair, the former auto executive points beneath the folding table that is his desk. "We had a ton of people working for us," Shaw says, crossing his stocky arms over his chest. "Now you have to do it all yourself. See that trash can? If I want it emptied, I empty it myself."
Two of Shaw's colleagues at Clean Emission Fluids grin knowingly. All three once worked for auto companies or their suppliers. Today, as Shaw says, they are wearing many more hats than they ever did working for the Big Three: They are engineering, assembling, and marketing a highly sophisticated biodiesel blending machine that they hope will propel their three-year-old startup to huge success.
The machine makes any biofuel easily available in whatever mixture of traditional diesel and alternative fuel a trucker or fleet might choose. The result is cleaner-burning engines. "We aren't waiting for the auto industry to come save us," says Clean Emission CEO Oliver Baer, a ThyssenKrupp alumnus. "We're going to save ourselves."
Clean Emission is one of 160 startups that are part of a nonprofit incubator in central Detroit called TechTown. Founded by Wayne State University in 2000, the research park set out to make technology and entrepreneurship an engine of economic growth in a city that depended too much on, well, engines. With the U.S. auto industry in a shambles, TechTown's mission seems more critical than ever.
Detroit isn't known today for its entrepreneurism -- or its tech prowess. But TechTown's neighborhood is surrounded by reminders of Detroit's innovative, ambitious past: There are ornate buildings, many of them vacant, that formerly housed the headquarters of GM, its Cadillac division, and its suppliers. According to local lore, the third floor of TechTown was where GM engineers conceived and designed the iconic Chevy Corvette.
These days TechTown is bustling. Over the summer nearly 1,000 people registered to attend a series of classes aimed at educating would-be entrepreneurs. Almost a quarter came directly out of GM, Ford (F, Fortune 500), and Chrysler, and almost half were between the ages of 35 and 55. TechTown hopes to create jobs by helping give birth to 400 new companies in the next three years, says Randal Charlton, executive director of the incubator.
Will they all succeed? Clearly not, but don't dismiss Detroit just because it isn't Silicon Valley. The area is rich in skilled electrical, mechanical, and software engineers, and Detroiters have deep expertise in some industries with growth potential, such as alternative energy (hello, electric cars), health-care technology (until 2008, Pfizer (PFE, Fortune 500) had one of its largest R&D centers in the region), and logistics and supply-chain management, thanks to its manufacturing roots.
Detroit's would-be entrepreneurs also have something that many of their counterparts in California's Mountain View and Sunnyvale lack: community spirit.
Don't laugh. A lot of hotshot engineers and executives tend to be mercenary, readily relocating to the company -- and region -- that offers the best salary or the most stock options.
Not Greg Auner. "I was born and raised in Detroit," says Auner, a Wayne State professor and founding partner of Visca, a TechTown company that makes a handheld sensing device. Visca could be headquartered anywhere, but Auner is committed to staying in his hometown. "I am dedicated to this region and bringing about a rebirth here."
Civic pride also motivates Leah Robinson and Ashara Shepard, Ph.D. candidates and former schoolteachers who launched COOL School Technologies, a sort of educational Facebook. The women wanted to create a tool to help inspire and motivate students in Detroit, who don't have the same auto industry job opportunities that their parents and grandparents had.
Then again, if Shepard and Robinson -- and others in TechTown -- are successful, Detroit's next generation won't miss those auto jobs; they'll all be working for tech firms.