Boards of disasters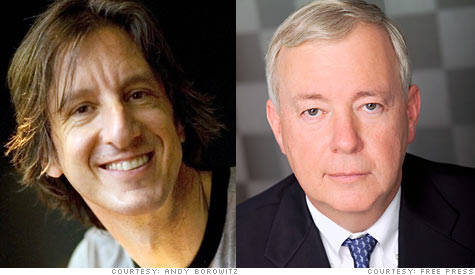 NEW YORK (Fortune) -- In the interest of full disclosure, I should say that John Gillespie, co-author (with David Zweig) of Money for Nothing: How the Failure of Corporate Boards Is Ruining American Business and Costing Us Trillions, is a friend of mine.
We were both editors of The Harvard Lampoon, and his wife, Susan Orlean, grew up with me and is one of my oldest pals. Because of my obvious bias I felt a little queasy about interviewing John, but after reading his book I realized I had far fewer conflicts of interest than a lot of the stooges who sit on corporate boards. Plus, I'm not destroying America.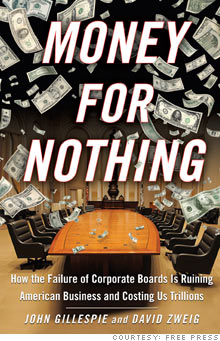 Your book offers a damning portrait of the current state of corporate boards. Have they always sucked this much, or is this a new development?
Boards have been dysfunctional since they were first created several hundred years ago and were named after the wooden plank over a couple of saw horses that they met around. Although they've come a long way in terms of furniture, they haven't progressed much in accomplishing their fiduciary duties.
One example: in 1938, Sidney Weinberg, the legendary head of Goldman Sachs (GS, Fortune 500) who sat simultaneously on 31 corporate boards (bonuses weren't what they are today, so he must have had to moonlight), was summoned to an emergency meeting of a company's directors.
The CEO had just been exposed as a swindler and ex-convict who had stolen $21 million of shareholders' money and disappeared. When word came in that the CEO had committed suicide, Weinberg stood up and said, "Well, come on, gentlemen, let's fire him for his sins anyway!"
We argue in the book that similar negligence by directors was one of the largest hidden causes of the recent economic meltdown and it's is likely to recur yet again if we don't reform our broken system of corporate governance now.
You mention that some corporate boards seem to like having celebrities around the table -- the most inappropriate (or appropriate, now that I think about it) example being O.J. Simpson, who served on the board of a knife company [The Forschner Group]. What do you make of the mutual attraction between boards and famous people?
Some CEOs want sports and entertainment celebrities with little or no relevant experience in the boardroom because they add a kind of prestige, ask few questions and are especially prone to agreeing with management, although some might have difficulty operating unfamiliar business equipment such as a rubber stamp.
In addition to O.J., who also served on the audit committee of Infinity Broadcasting before a jailhouse resignation, my favorite examples are Elvis's ex-spouse, the actress and perfume promoter Priscilla Presley, who has served on the compensation committee at MGM; and Lance Armstrong, who left the board of Morgans Hotel Group in 2008 after missing every single one of the eleven board meetings the previous year.
Some people are what I like to call "board whores" -- willing to serve on any board that will have them. Who should be in the Board Whore Hall of Fame?
Well, the euphemism among directors themselves is "overboarded," but I'd say the current record may belong to Lee Ault, who sits on the boards of more than 350 mutual funds as well as the CIA's venture fund and the Office Depot (ODP, Fortune 500) board.
You'd also have to go with Vernon Jordan, who -- at the time he was helping Monica Lewinsky seek a non-White House job with some of the companies he was serving as a director -- sat on 10 public company boards at once, while his wife was on five.
It's a real problem -- we point out in the book that Bear Stearns (where shareholders lost over $20 billion) was one of only two publicly traded U.S. companies that had three directors who sat on at least five public company boards.
If you were a crooked CEO, who would you appoint to your corporate board? You're allowed to include family members and pets in your answer.
Cooper, my family's Welsh Springer Spaniel, would be delighted, but only for pet food companies. Most CEOs aren't crooked, but the imbalance of power favoring them over their boards has resulted in directors that are essentially representing executives rather than the shareholders -- and that's costing us trillions of dollars from bad leadership.
If I were God -- I mean, an omnipotent, large-company CEO -- I guess I'd go with the Michael Eisner model from when he was CEO and chairman at Disney (DIS, Fortune 500). Eisner's board included his personal lawyer (who chaired the compensation committee); friends such as the actor Sidney Poitier; the principal of the elementary school that Eisner's children had attended; and the architect Robert A.M. Stern, who had designed Eisner's 16,000 square foot log cabin near Aspen, Colorado.
Going forward -- and this is why I like writing for Fortune, because I get to use phrases like "going forward" -- what would you do to improve the sorry state of corporate boards?
The problem is that we've largely been going sideways, if not backwards, with corporate governance recently. We all need to direct our anger at demanding reforms that work and many of these require a change in the make-up and culture of boards.
We offer 24 measures in the book that we think would help (they're summarized here).
Key ones include banning the CEO from also serving as chairman; allowing 10% of a company's shareholders to call an Extraordinary General Meeting where a majority can oust bad directors; and imposing term limits for directors and creating a new class of public, truly independent directors.
Right now, the only thing that's really controlling boards is the "outrage constraint" through which boards are shamed into doing the right thing after embarrassing information gets out. That's the main thing we're trying to accomplish with the book, where there's an outrage on every page.
--Andy Borowitz is a writer, comedian and creator of the Borowitz Report.