Mass transit for Motor City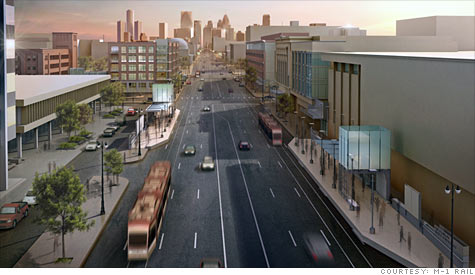 DETROIT (CNNMoney.com) -- Can Motor City combat its economic ills by becoming Rail City?
Along Detroit's Woodward Avenue, a downtown stretch that seems permanently stuck in the "emerging" phase of business development, community leaders are hoping a new light rail system will help spark a renaissance. The city plans to break ground this year on stage one of a $420 million project: the first modern, mass-transit initiative in a city long synonymous with automobiles.
"Transit in Detroit has kind of been a joke," says Matt Cullen, CEO of M1 Rail, a private consortium heading the development effort. "We've been a victim of balkanized politics and other efforts. But now we have a plan in place. We'll get it done, and we feel it will have a huge impact on this region."
In most cities, civic cash would pay for major infrastructure projects like a new mass transit system. But in Detroit, which faces a $300 million annual budget deficit, private backers have stepped in to try to kick-start the venture.
It's the only project of its kind in the U.S., and the donor list reads like a Who's Who of area megamillionaires: Compuware (CPWR) CEO Peter Karmanos, Quicken Loans founder Dan Gilbert, Penske Corporation CEO Roger Penske and Red Wings owner Mike Ilitch are among those ponying up $125 million to cover the project's entire phase-one price tag.
The planned 3.4-mile first stretch of light rail service would encompass some of Detroit's best-known entertainment districts, including Comerica Park, home of baseball's Tigers, and Ford Field, where the Lions play football. The route winds past the Fox Theater district and extends into Detroit's New Center area, the center of gravity for many local hospitals and medical facilities, as well as much of the Wayne State University campus.
"With this light rail system we will have a much greater concentration of business investment possibilities," says Rip Rapson, CEO of the Kresge Foundation, which awards grants to nonprofit organizations in a variety of fields. The foundation has committed $35 million to the M1 Rail project.
The obstacles
Is a rail line the best way to bring much-needed shoppers into Detroit's retail zones? That question -- and political skirmishes over funding for the rail line's future extensions -- kept the M1 plans stalled last year.
Proponents say there's little to lose.
"If we can pull something off of this magnitude I think businesses will see Detroit in a different light," says Sarah Hubbard, senior vice president of government relations for the Detroit Regional Chamber of Commerce. "Business leaders have come to the table and are ready to act on this. It's going to be as much of a psychological benefit as anything."
Khalid Diab, manager of The Whitney -- a high-end restaurant on Woodward Avenue -- sees the rail line as "free advertising" for businesses on the route.
"You're not zipping by at 50 miles an hour. Your attention is on what you are passing by, rather than the road you are driving on," he says. He thinks trains could make downtown Detroit a more popular nighttime destination.
But some on the proposed route are skeptical.
"I just don't know how significant the impact would be, because most of our foot traffic drives and wouldn't take mass transit anyway," says Kevin Prihod, CEO of the Detroit Science Center.
Funding is another challenge. M1 was ready to break ground last year, but the project went on temporary hiatus when Detroit's Department of Transportation got involved. DOT had its own light-rail plans percolating, for a more extensive system reaching several miles further to 8 Mile Road, the traditional dividing line between urban Detroit and the city's suburbs. (Eminem's 2002 movie 8 Mile popularized the cultural boundary.)
DOT had plans, but not enough cash. Its executives hit on a novel solution. The rail project would qualify for federal matching funds if Detroit coughed up a chunk of the project's cost. Could the $125 million in M1 Rail funding -- contributed entirely from private backers -- be used to fulfill the matching-funds requirement?
It can. In December, Congress blessed the unusual maneuver, tucking approval for it into an omnibus spending bill. With that green light, it's game on for the rail construction.
The first, privately financed phase -- built and operated by the M1 consortium -- plans to start construction by the end of this year and have trains running by 2012. The second stage, adding at least 4.5 miles of track at an estimated $250 million price tag, is tentatively scheduled to start soon after 2012. The federal government will pay 80% of its cost, with the city of Detroit picking up the bill for the remaining 20%.
Civic planners hope the sight of trains carrying shoppers and workers through Detroit's fledgling business corridor will win over the project's doubters.
"Once we build this system, the benefit will become obvious to everyone -- residents, business leaders and politicians," says Norman White, Detroit's CFO and former Department of Transportation director. "Already, we are getting calls every week about when ground will break and when we can get this project off the ground."
The unstated hope is that a light-rail system will do more than simply move people around. It's a sign of progress and modernization -- and a selling point for the young, creative professionals Detroit wants to retain and attract. Southeastern Michigan has suffered youth exodus, thanks to its tepid job market. Cities like Chicago, Boston, New York and San Francisco lure new residents in part because of their extensive mass-transit systems.
There's precedent for this kind of transit revitalization. In 2004, after three years of construction and more than a decade of political wrangling, Minneapolis launched a new 12-mile light-rail service connecting the city's downtown with its airport, the Mall of America and several suburbs. In just two years, the line's weekday ridership topped 25,000 -- a target the rail's developers didn't expect to hit until 2020.
"[Minneapolis] is an almost identical process to what we're working with here in Detroit," says the Kresge Foundation's Rapson, a Minneapolis native who worked on the city's light-rail development. "Getting the federal funds, though, is a key."
Even skeptics are willing to be won over. "Anything that brings people to downtown is good, and none of the non-profit or business leaders I have spoken to see a downside," says Prihod of the Detroit Science Center. "Now we just need to see if it gets completed."
Diab, The Whitney's general manager, gives the line an "80% chance" of happening.
"This rail system is the start of a new page in the city's growth and development," he says. "We haven't received a lot of positive news over the years here in Detroit, but this is great news for the city."