Berkshire's big day: $24 billion in trading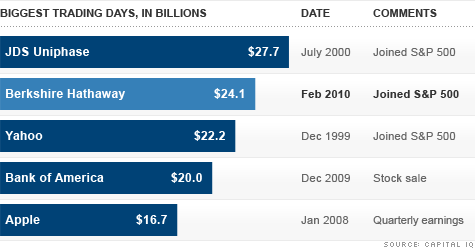 NEW YORK (Fortune) -- Warren Buffett's Berkshire Hathaway got a rousing introduction to the S&P 500 this month -- though it wasn't quite the most lavish ever.
Investors bought and sold more than $24 billion worth of Berkshire (BRKA, Fortune 500) shares last Friday, the day the stock joined the S&P 500 index of big companies. That is the second-largest single-day volume for a U.S. stock in the past decade, according to a survey of currently listed companies by Capital IQ, a unit of S&P.
The record, in a testament to the insanity of the Internet boom of the late 1990s, belongs to JDSU (JDSU) -- a now-obscure broadband gear company that generated $27 billion of trading on the day it joined the S&P in July 2000.
The company, which used to be called JDS Uniphase, has since replaced its top management. Still, it can hardly escape the shadow of those tech bubble days.
Just over a year after the trading frenzy that accompanied the company's accession to the S&P 500, JDSU posted a $51 billion loss for fiscal 2001. Investors who bought the stock on the day it was added to the S&P have been all but wiped out.
That's not likely to happen to Berkshire Hathaway shareholders. Buffett, of course, has managed to increase the company's per-share net worth at a 20% compound annual rate since taking over the firm in 1965.
Some Buffett fans say that even now, the stock is substantially undervalued, given the earnings growth in its operating businesses such as MidAmerican Energy and the recently acquired Burlington Northern Santa Fe railroad.
Others, however, predict the stock will decline as investors take a second look at the pricey Burlington buy. Skeptics deride that deal as evidence of "style drift" -- a case of Buffett making a pricey purchase at the expense of some long-held ideals, including a long-stated aversion to stock splits.
For now, joining the S&P 500 has been good for the stock. Berkshire shares have risen 12% since Jan. 26, the day S&P said it would add the company to the index, thanks to the stock split Berkshire did that month to facilitate the cash-and-stock Burlington deal.
As for the other stocks on the trading frenzy list, neither JDS nor Yahoo (YHOO, Fortune 500) trades anywhere near their value on their big day. But other members of the top 10, including Apple (AAPL, Fortune 500), Google (GOOG, Fortune 500) and Goldman Sachs (GS, Fortune 500) -- which Berkshire owns a stake in -- have all risen substantially since then.