Where the brainiacs are, and pharma isn't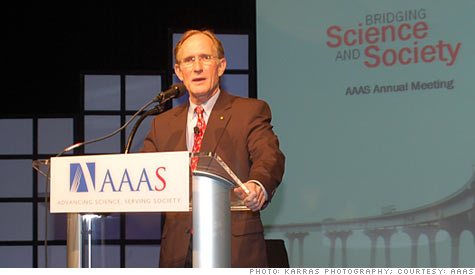 SAN DIEGO (Fortune) -- Let's say you're a large company in need of innovative ideas. Where would you go?
One place might be one of the world's great gatherings of supple minds: a meeting that for 176 years has drawn the aristocracy of established scientists, plus legions of younger brainiacs just getting started in biology, engineering, physics and mathematics. They came to San Diego in mid-February for the annual meeting of the American Association for the Advancement of Science (AAAS), the organization that among other things publishes the preeminent journal Science.
Wandering the halls of this city's massive convention center, I dipped into lectures and seminars on everything from the impact of genomics, rethinking stem cells, retrofitting cities to be more energy efficient to what went wrong with the global economy.
The theme was "Bridging Science and Society", a pertinent idea in these times when so many urgent world problems need to be solved by scientists -- from alternative energy schemes to curing disease and feeding a population that will spike up to 8 billion people by 2030.
By and large, however, this was a meeting of scientists talking among themselves. Other elements of society were barely there -- including business.
They should be.
Big Pharma -- companies like Pfizer (PFE, Fortune 500), Eli Lilly (LLY, Fortune 500), and AstraZenca (AZN) -- desperately need to find some way out of its drug-development quicksand: rising R&D costs and declining drug approvals. They need new ideas fast as blockbuster drugs such as Lipitor are about to lose their patent protection. Big Energy, too, is grappling with a changing world that includes declining fossil fuel supplies and worrisome global warming.
I counted only four Fortune 500 companies with a significant presence at the meeting (as sponsors or delivering plenary lectures): Johnson & Johnson (JNJ, Fortune 500), Monsanto (MON, Fortune 500), Loreal -- and, uh, Suburu, which sponsored an award and was giving away discount coupons for new cars. Of these, only Monsanto delivered a major talk, given by its Chief Technology Officer, Robert T. Fraley, a PhD biochemist and fellow of the AAAS. His lecture was "Sustainable Solutions for Doubling Crop Productivity by 2030" -- an insistence that science was capable of repeating the doubling of global food production that has occurred globally since 1970.
This is highly optimistic compared to most projections. Fraley suggested that efforts by Monsanto and other companies to genetically modify corn, soybeans, and crops to boost production would play a crucial role.
A representative from the Union of Concerned Scientists was there distributing a flyer that summarized this activist group's contention that GMO foods have failed to increase crop yields as claimed by Monsanto. They also suggest that the company's patented seeds are expensive and are creating a culture of dependency among farmers around the world.
This lecture generated an inkling of the heat one might expect at a meeting that was trying to discuss pressing issues in applying science to the rest of society. It would have been more bridge-like, however, and less of a self-promotion forum for Monsanto, if the meeting organizer's had arranged for a debate between Fraley and a senior scientist from the Union about the speaker's claims -- and perhaps an agriculturist and geneticist to weigh in on the assertions made by each side.
It's important for scientists to talk among themselves, and to put on talks and panels for the assembled science writers to deliver to the public. This meeting is also a crucial forum for experts from different disciplines to dip into seminars and offerings from other disciplines.
But just hearing one expert after another present findings on various issues is a holdover from the days not long ago when the AAAS meeting had a distinct Ivory Tower feeling of pure science purposely standing apart from society, particularly from commerce.
"There is a myopia that tends to focus on specialty meetings," says Alan Ezekowitz, a Senior Vice President at Merck in charge of their R&D program for bone, respiratory, immunology and dermatology. He also is a fellow of the AAAS and a member of its membership committee. "But it is becoming more important for Pharma to focus on more general issues, to refocus on social responsibility and understanding global markets."
With all of the problems besetting the world, neither scientists nor society, including industry, can afford to not talk to each other.
David Ewing Duncan's most recent book was Experimental Man: What one man's body reveals about his future, your health, and our toxic world, his website is http://www.davidewingduncan.com/.