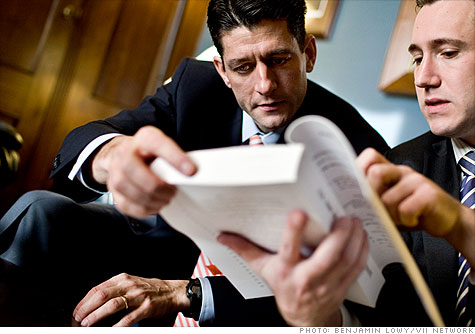 Paul Ryan reviews health-care statistics before heading to President Obama's health-care summit this winter.
(Fortune Magazine) -- Editors note, August 11, 2012: On Saturday, Mitt Romney selected Rep. Paul Ryan as his running mate on the Republican ticket for the presidential race. In this 2010 Fortune profile, it was clear Ryan had already set his sights squarely on President Obama.
On the eve of President Barack Obama's winter health-care summit, Rep. Paul Ryan is dining at Talay Thai, a no-frills restaurant with metal chairs and Formica tables. On this frigid evening, Ryan strolled coatless to Talay -- "I'm from Wisconsin!" he says -- from his cramped Capitol Hill office, where tonight, as on most nights, he'll sleep on a cot.
Such frugality is fitting for a politician who, as he sips ice water, frets that America is "sleep-walking toward a debt crisis." Ryan tells me: "Within a few years a sale of government bonds will fail. The capital markets will go crazy, and the Fed and Treasury will run to Capitol Hill demanding a giant bailout. Adding Obamacare would make the crisis go deeper and arrive faster."
It isn't unusual to hear such antispending rhetoric from Republicans these days. What makes Ryan a rarity is that he's been preaching cerebral free-market ideas during his 11 years in Congress, despite getting little attention for his views.
Now the 40-year-old Janesville, Wis., native is emerging as the leading GOP voice on economic policy, thanks to his detailed blueprint for solving what both Democrats and Republicans agree is a perilous fiscal future. (How bad is America's financial picture? The President's budget for 2011 forecasts deficits running at more than $1 trillion, or an unsustainable 4.2% of GDP, in 2020 -- and that assumes low unemployment and decent growth of the economy.)
Republicans aren't the only ones suddenly taking notice of Ryan's views on deficit reduction and government spending. During his now-famous appearance at the Republican congressional retreat in Baltimore earlier this year, the President singled out Ryan. "It was my 40th birthday, and I'm sitting at lunch with my 6-year-old son on my knee," marvels Ryan. "And the President starts talking about me. I was amazed!"
Obama noted that Ryan had "made a serious proposal" to rein in the deficit and then praised him for at least addressing entitlement spending. Following those apparently peaceful words, Democrats launched a withering assault over the next three days as budget director Peter Orszag, Democratic Congressional Campaign chairman Chris Van Hollen, and House Speaker Nancy Pelosi all pummeled Ryan for threatening the safety net for the elderly and providing tax breaks for the rich.
Ryan got his chance to confront the President at the health-care summit Feb. 25. Seated across from Obama, Ryan addressed him directly with a six-minute, numbers-laden, wonkish analysis of the Senate bill that contradicted the administration's pledge that the plan wouldn't add to the mountainous deficit.
Ryan correctly stated that the bill projects that Medicare will lower reimbursements to doctors by $371 billion over the next 10 years, yet Congress would cancel those cuts in a separate bill, all part of an attempt to mask the true size of future deficits through "gimmicks and smoke and mirrors." Obama steered the discussion away from Ryan's numbers, and the White House hasn't challenged his analysis.
Ryan's deficit roadmap
What is the Ryan plan , and why is the Obama administration seemingly obsessed with it? Ryan calls his proposal, published in January, the Roadmap for America's Future. It's a remarkably comprehensive, daring manifesto that tackles every part of the budget on a presidential scale, from Social Security to tax policy to health-care reform.
The goal is to eliminate the deficit, and eventually all federal debt, without any crippling tax increases. Under Ryan's plan, for example, federal spending would reach just 24% of GDP in 2035 and then fall, vs. the CBO's projection of 34% and rising from there. Ryan would make the deficit disappear by mid-century.
Ryan, to be sure, voted for President George W. Bush's tax cuts, which added to the U.S. deficit, but he blames the current mess on excessive spending, which he proposes to control.
But he's not trying to gut all programs. He wants to maintain promised health-care and retirement benefits for those who require them -- the sick and the poor, and not just for today's needy but for future generations. But he would also lower future benefits for the middle class. He would index future Social Security benefits to wage growth for, say, a family earning $28,000, but limit increases to inflation for households that made over $149,000.
Ryan also wants to totally change the way the government aids most Americans. His plan would use vouchers and tax credits to allow families to buy their own Medicare plans, private health insurance, and retirement accounts. His view is that by directly handing middle-class taxpayers part of the money the government now spends on their benefits, they will demand bargains and better service. Ryan predicts that what the middle class will lose in guaranteed benefits they'll more than recoup through robust economic growth and lower prices.
Regarding health care...
His prescription for health care is radical: Ryan would eliminate the exclusion allowing companies to lavish on employees tax-free benefits and give the tax breaks to the workers themselves through a rebate of $5,700 a family, or a check for that amount if they don't pay taxes.
"The problem with both Medicare and private plans is the third-party-payer system," says Ryan. "Consumers, spending their own money, will drive down prices." Ryan proposes a classic flat-tax solution: Americans could choose between using today's byzantine rules and a simplified, post-card model with two rates, 10% and 25%. Believe it or not, the simplified system would disallow mortgage and other deductions.
In February the Congressional Budget Office analyzed Ryan's road map -- and confirmed that it produced the falling deficits and balanced budgets that Ryan promises. "By proposing cuts in benefits, Paul Ryan is demonstrating the nature of the solution that must occur," former Fed chief Alan Greenspan told Fortune. "You can't close the gap with tax increases alone, and if you try to do it, you slow growth and reduce future tax receipts."
Ryan's fan base cuts across party lines. "We both want to inject competition into the marketplace," says Sen. Ron Wyden (D-Ore.), who is co-sponsoring another bill that would hand consumers tax breaks for health care they now get only from employers. "We need ideas and policy, not political points, and that's what Paul is all about."
Despite some bipartisan support, Ryan's ideas are a hard sell, politically speaking. The idea of indexing Social Security to inflation caused an angry backlash under President George W. Bush. On both Medicare and his health-care tax credit, Ryan would restrain expenditures by raising benefits for high earners and most of the middle class at a pace slower than the rate of medical inflation. As a result, Americans would be forced to spend more and more of their own dollars on insurance. Even though Ryan promises to leave today's Medicare benefits in place for people 55 and older, his proposal is bound to raise the ire of the lobbies for senior citizens.
Ryan's proposals contradict the Obama administration's philosophy, which calls for the government to take on more responsibility for citizens' well-being. Budget director Orszag conceded that Ryan "succeeds in addressing our long-term fiscal problem," but takes "a dramatically different approach in which more risk is unloaded onto individuals."
Ryan is a free-market adherent of the old school, who believes it is the government's duty to invest maximum economic power in the hands of individuals. His own story is a primer in self-reliance. Ryan's parents put the kids on an incentive system for allowances -- if they got just one B on their report cards, their allowance was cut from $4 to $2, and a C meant no allowance at all. At 16, he discovered his father dead of a heart attack, and had to inform his mother and older siblings. His older brother Tobin, a private equity executive, says that one of Paul's chores was brushing and braiding the hair of their grandmother, who suffered from Alzheimer's.
Ryan, who majored in economics and political science at Miami University in Ohio, says his chief influences are still thinkers discovered in the soul-searching that followed his father's death, including Ayn Rand, Milton Friedman, and Friedrich Hayek.
In Washington he pursues an almost ascetic work ethic. He studies budgets and spreadsheets until 11:30 p.m., then crashes on his cot or on a mattress at his sister-in-law's home in Bethesda. He seldom travels to campaign for politicians in other states or to burnish his national image. Instead he grabs the first flight to Wisconsin after the last vote on Thursday or Friday to join his wife and three young children at home.
Back in Washington on Monday mornings, and during the week, he leads about a dozen congressmen, including former football player Heath Shuler (D-N.C.), through a workout called P90X, a punishing bipartisan series of pushups, pull-ups, karate, and yoga. "Paul said I should join the yoga routine, but I can't put my body through those contortions!" jokes Wyden. Ryan is prescribing an equally punishing workout for America's future. It isn't pleasant, it isn't easy, but it may be the regimen on the table.