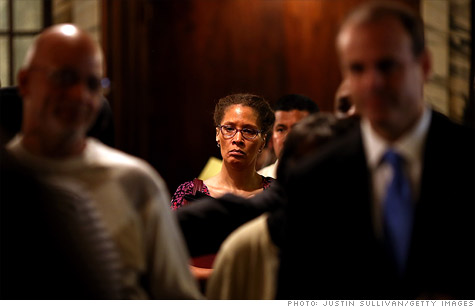 Job seekers attend a career fair in San Francisco.
NEW YORK (CNNMoney) -- Did the job market seem any better in July than it did in June? Don't count on it.
Economists surveyed by CNNMoney are predicting the economy added 95,000 jobs last month.
That's only a slight improvement over the 80,000 jobs added in June, and is not strong enough to keep up with population growth, let alone reduce the unemployment rate from its current 8.2%.
The government will report its official numbers on Friday.
"Generally speaking, today's current economic environment is not conducive to employers ramping up their pace of hiring," said Wells Fargo economist Sam Bullard.
Factories, which were hiring at a stronger pace earlier this year, have seen their business slow. Weak demand from abroad is part of the problem, amid Europe's debt crisis and China's slowdown.
Back at home, American consumers are not giving businesses much incentive to hire either. Consumer confidence fell in July and retail sales have been weak.
But it's not just the here-and-now that's holding employers back. The bigger drag on hiring lies in the unknown that looms ahead.
"Companies' concerns about Europe, the 'fiscal cliff' of tax increases and automatic spending cuts, health care costs and regulation have now been compounded by slowing sales both in the U.S. and around the world," said Lynn Reaser, chief economist for the Fermanian Business and Economic Institute.
Thanks to Congress, many businesses still don't know what their tax rates will be in 2013, or where exactly the government plans to make its $110 billion in cuts when the new year triggers the so-called sequester. Businesses that often rely on government contracts simply don't know how to plan for the year ahead.
"We've stopped investing and hiring because we don't know what programs are going to get cut," said Chad Moutray, chief economist for the National Association of Manufacturers.
Health care costs are also a top concern for businesses, after the Supreme Court upheld healthcare reform in late June. The ruling could have an impact on small business hiring in particular, given a rule that requires companies with 50 or more full-time employees to provide health insurance for all workers by 2014 or face stiff penalties.
Of course, the outlook isn't all negative. One bright spot lies in the housing sector, which has recently shown some signs of improvement. Construction spending has started to pick up, and that could eventually lead to a small gain in construction jobs.
Auto manufacturers could also make the July jobs report look a bit better than June, but the effect might be artificial.
Every year in early July, auto factories temporarily shut down and lay off some workers to retool their factories. There were far fewer of those furloughs this year, and that could artificially distort the Labor Department's seasonal adjustments. The result could be job growth looks stronger in July than it actually was.
"Correcting for annual shutdowns in auto production can often distort July employment figures," Reaser said."The underlying mood for hiring, however, remains subdued."