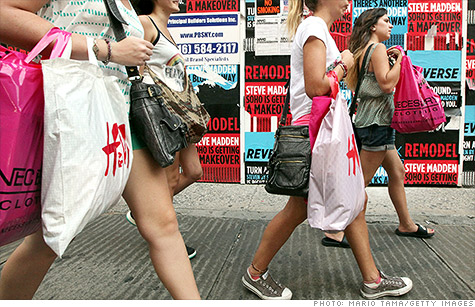 Retail sales rose 0.8% in July, marking the first increase in four months.
NEW YORK (CNNMoney) -- U.S. retail sales rose for the first time in four months in July, an encouraging sign that the economy may have started strengthening in the middle of the summer.
Overall retail sales rose 0.8% in the month, according to a Commerce Department report released Tuesday. The increase was well above economists' expectations for growth of 0.2%.
Prior to July, retail sales had declined for three straight months, dragging on overall economic growth and heightening calls for the Federal Reserve to do more to boost the recovery.
But now that July has brought stronger data on both consumer spending and hiring, it seems less likely that the Fed will announce any new stimulus plans at its next meeting in September.
"The retail sales data suggest that the U.S. economy fared surprisingly well in the face of ongoing uncertainty and renewed contraction in the Eurozone, and argues against the need for additional stimulus from the Fed," Chris Williamson, chief economist for Markit, said in a note to clients.
He cautioned against getting too excited about the stronger data though. It's just one month of data, and the retail sales numbers can be volatile from month to month.
Should improvement continue over the coming months, it could give a much-needed boost to the job market and gross domestic product. Consumer spending alone makes up roughly two-thirds of the U.S. economy.
In July, the gains were broad based, with every major industry reporting stronger sales.
Furniture sales rose 1.1% in July and spending on building materials and garden supplies rose 1%, adding to other signs of a gradual housing recovery.
Meanwhile, spending at sporting goods, hobby, book and music stores posted the biggest gain, with sales on those items rising 1.6%.
Spending at gasoline stations rose 0.5%.