Can you learn to be an entrepreneur?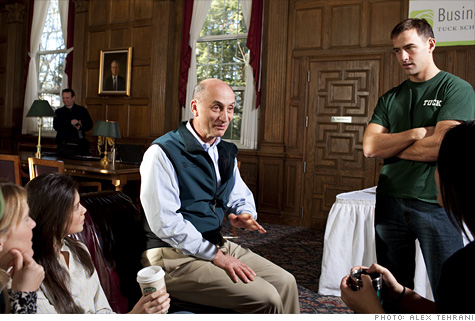 (Fortune Magazine) -- Gregg Fairbrothers wasn't born to business. He grew up in an academic household. "I didn't know a debit from a credit," he admits. Fairbrothers studied earth sciences at Dartmouth in the '70s, got his master's at Rutgers, and eventually moved to Tulsa, where he joined Samson, a gas driller, and earned his chops at the right hand of the company's "hard-nosed founder." He picked up an MBA, but that was "just to get the toolkit," he says. "I learned my business on the job."
Today, as founding director of the Dartmouth Entrepreneurial Network, Fairbrothers teaches a wildly popular course on entrepreneurship at the Tuck School of Business. As befits the professor's background, Introduction to Entrepreneurship is all about learning through experience. Recently MBA candidates from all over the world filled the lecture hall and spilled into an adjoining room. There was a lecture on marketing, and then the real fun began, as students lined up to pitch their startup ideas.
One proposed developing a new generation of household robots; others (many!) were working on smartphone apps. Ultimately they'll be graded not on their ideas but on their follow-through, says Fairbrothers. Most of the work happens outside the classroom. Students must refine their ideas, test them in the marketplace, refine them again in light of what they learned, and ultimately pitch them to investors.
Twenty years ago teaching people how to start their own businesses was a sideshow at B-schools, of scant interest to future consultants and Wall Streeters. Today entrepreneurship education is everywhere. More than two-thirds of U.S. colleges and universities -- well over 2,000, up from 200 in the 1970s -- are teaching it, and they offer it to all comers: social workers, farmers, and even musicians. The field is thriving, but have we figured out yet the best way to teach this stuff? If not, are we at least getting better at it? And can you even teach someone to be an entrepreneur?
Fairbrothers has heard what critics say. To a point, he shares their doubts. He's not sure anybody has figured out yet how to define entrepreneurship, much less measure it.
According to a Kauffman Foundation study published early this year, the surge in entrepreneurial education during the past three decades has had "no appreciable impact on entrepreneurial activity in the United States." Even at Tuck, less than 2% of graduates immediately start their own businesses.
But maybe that's not the right way to look at it. Entrepreneurs are not defined by what they do, Fairbrothers argues, but by how they do it. He views entrepreneurship as a set of traits, identifiable and measurable, and dispersed along a classic bell curve. Here he sides with Howard Stevenson and David Gumpert, co-authors of a seminal study published 25 years ago in Harvard Business Review. Entrepreneurship is not "an all-or-none trait that some people or organizations possess and others don't," the authors wrote, but rather "a range of behavior."
"So the question is," says Fairbrothers, "can you take a point on that curve and move it? If 'entrepreneurial' is to the right, can you move it that way? I know I can move it that way. I've done it."
By developing in students the proper attitude toward risk, for instance. Entrepreneurship isn't about the love of living on the edge; that's pure myth. "You're all about de-risking your idea," says Fairbrothers. He means one, identifying, unblinkingly, what could go wrong; and two, taking whatever steps necessary to slash the odds that it will. You do that by relentless learning -- about your market, your customers, your competitors, and if you're truly new at this, about the nuts and bolts of business.
If it's just the toolkit you need, of course, you can get that online. But don't -- you'll be missing something.
Meet Dan Schorr, 41. He signed up this winter for a five-session program on entrepreneurship sponsored by Babson College. The first meeting was in a fourth-floor classroom recently at the Jewish Community Center in Newton, Mass. Schorr was 10 minutes late, and by the time he arrived all the seats were filled -- with corporate refugees, striving immigrants, bored homemakers, and IT "consultants."
The introductory lectures were a tad light on substance ("Winston Churchill said, 'Never give up. Never, never, never, never'), especially for someone with Schorr's background. He was a brand director at Pepsi (PEP, Fortune 500) before starting his own sports-marketing firm. Now he's thinking about a new business, a product this time, maybe something building on his early experience with another startup, PowerBar. But at the break, Schorr was ebullient.
He gushed about the "inspiration of being around likeminded people" and the "kick" it provides. Maybe that's reason enough to take a class on entrepreneurship.