Greenspan & Bernanke still don't get it
NEW YORK (CNNMoney.com) -- Alan Greenspan and Ben Bernanke have a message for everyone who thinks the Federal Reserve isn't to blame for the housing bubble and Great Recession: It wasn't our fault.
In a 48-page paper that Greenspan presented at the Brookings Institution Friday called "The Crisis," the former Fed chairman wrote that it was low long-term rates, not the Fed's easy money policy from 2002-2004, that caused the spike in home prices.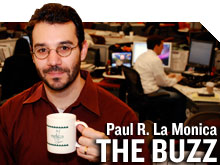 These comments echo remarks made by current Fed chairman Bernanke in a speech earlier this year. Bernanke said in January that "the increasing use of more exotic types of mortgages and the associated decline of underwriting standards" was the main culprit for the housing boom, not low short-term rates.
This argument is getting tiresome. Keeping rates so low helped inflate the bubble.
To be fair, the Fed is not completely at fault for the economic downturn.
The blame has to be shared by greedy banks and mortgage lenders, short-sighted investors who were willing to turn a blind eye to risk and keep buying mortgage-backed securities and overzealous consumers who thought it was a divine right to own a home even if they couldn't really afford one.
Yes, long-term rates remained stubbornly low -- even falling -- after the Fed finally started tightening in the summer of 2004. That led to the famous bond "conundrum" that Greenspan often lamented.
But it's hard to imagine how long-term bond rates and mortgage rates would have ever fallen so far -- and stayed so low -- if short-term rates weren't so low for a lengthy period of time to begin with.
"The Fed wasn't the sole culprit. But if not for an artificially steep yield curve, we probably would not have had a global financial crisis," said John Norris, managing director of wealth management with Oakworth Capital Bank in Birmingham, Ala.
"Greenspan and Bernanke are missing the point. It all stems from monetary policy," Norris added. "If you give bankers an inducement to lend more than they ordinarily would they are going to do so."
Greenspan argued that a rapid boost to short-term interest rates would probably have done nothing to prevent the euphoria in the real estate market. He said that the Fed could have raised rates more aggressively but that would have created an even greater economic problem.
"At some rate, monetary policy can crush any bubble. If not 6½%, try 20%, or 50% for that matter," he wrote. "Any bubble can be crushed, but the state of prosperity will be an inevitable victim."
The problem with that argument is that Greenspan's Fed never tried to crush the housing bubble. While the Fed under Greenspan and Bernanke has shown its willingness to react quickly when it needs to lower rates, it hasn't done so when higher rates are justified.
Rates only got to 5.25% after sitting at 1% for more than a year. And the move to 5.25% unfolded over a period of two years with 17 consecutive quarter-of-a percentage-point hikes.
"Greenspan is still sticking to his guns about not popping bubbles without hurting society, which I don't agree with," said Daniel Alpert, managing director of Westwood Capital, a New York-based investment bank. "The truth is any action on the part of regulators to tamp down bubbles doesn't kill anybody. It's better to be prudent and err on the side of cautiousness."
In addition, it's a bit odd to talk about prosperity being a victim of high interest rates considering that Greenspan's predecessor Paul Volcker lifted rates aggressively to fight inflation in the late 1970s and early 1980s. That was followed by two decades of nearly unprecedented economic prosperity.
What's more, Bernanke and Greenspan have both tried to pass the buck by suggesting that the housing bubble was caused by a lapse in regulatory standards, not flawed monetary policy.
So isn't that splitting hairs? If we are to believe that the Fed's low interest rates didn't contribute to the economy overheating, didn't it drop the ball in a major way by not reining in the banks it oversaw?
"His incompetence as a regulator made his incompetence as a central banker even worse," wrote Barry Ritholtz, CEO and director of Equity Research Fusion IQ and a frequent Fed critic, in a report Friday.
But what's most troublesome about Greenspan's self-defense is his conclusion that the best the Fed can probably do is try and clean up the mess that it helped make.
"Preventing bubbles will in the end turn out to be infeasible. Assuaging their aftermath seems the best we can hope for," he wrote.
It doesn't seem to occur to him that if he hadn't tossed the Molotov cocktail that helped start the fire in the first place, there'd be no need to play the hero and put it out.
Reader comment of the week: How bad is it for Palm? I wrote Thursday that Palm was going to find it tough to find a buyer because it's difficult to put a value on the struggling company.Well, the smartphone maker's quarter was so dismal that two analysts cut their price targets on it Friday to $0. Ouch.
Palm has fallen so far that some readers forgot it still existed. Kirk Adam gets the comment of the week for summing up how tough times are for Palm.
"Did not even know Palm was still around. Thought they disappeared after Pilot became obsolete and smartphones took over. Never knew they had smartphone," he wrote.
- The opinions expressed in this commentary are solely those of Paul R. La Monica.