Nobody's worried. Time to worry?
NEW YORK (CNNMoney.com) -- The first quarter is about to come to a close. And most investors will look back fondly on the first three months of this year -- especially when compared to a year ago.
The Dow is up 4.5% so far this year, putting it on track for one of the best quarterly performances in the first quarter in more than a decade. Contrast that with the first quarter of 2009. Blue chips plunged 13% as bank nationalization worries and depression fears swirled.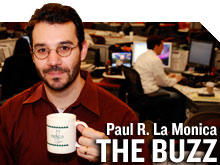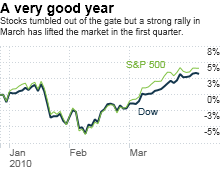 But what now? Only the most stubbornly ursine of the perma-bear crowd would cling to the notion that the markets and economy are due for another severe collapse.
Still, you'd have to be a Pollyanna to think that stocks can continue their torrid stretch uninterrupted. At the very least, the market is probably overdue for a healthy pullback, if not an outright correction of more than 10% from recent highs.
Some experts worry that there is too much optimism. The VIX (VIX), a measure of volatility often referred to as Wall Street's fear gauge, is hovering near a 52-week low. That could be a healthy sign that investors are no longer nervous. But it may also be a more ominous sign of complacency.
"It was just a year ago when people were talking about the end of civilization and now we're fearless. That worries me. Bad things happen when people aren't afraid," said John Kosar, director of research with Asbury Research in Chicago.
The VIX isn't the best predictive tool. It typically spikes after a major negative event (i.e. the collapse of Lehman Brothers). And it's worth noting that the VIX is currently not that much lower right now than what it was in the summer of 2008 -- i.e. before the excrement hit the fan in the credit markets.
Others think the biggest problem facing the market is that it's not yet clear whether or not average investors are ever going to buy into the rally. So stocks could run out of steam if a decent chunk of money remains in bond funds and other less risky investments.
One expert said that we may look back on the first quarter as a rally that was largely fueled by short sellers -- who bet that stocks will go down -- covering their positions.
Since shorts borrow shares and sell them, they eventually have to buy back those shares. The shorts hope to do so at a lower price than what they sold at and profit from the difference. But when the market's heading higher, shorts sometimes have to rush back in and buy in order to avoid prohibitive losses.
"A lot of people in this market are fighting the last war. There are a lot of shorts that are getting pushed out," said Jerry Harris, president of Sterne Agee Asset Management in Birmingham, Ala..
"But Johnny Jones and Suzie Smith are not participating in this rally. The public is not taking money out of money markets and savings accounts and putting it into stocks," he added.
Kosar agreed. He pointed out that trading volume has been light for much of the first quarter -- particularly in March. That suggests that there may be a lack of conviction behind the rally and some skepticism about how strong the economy really is.
"Volume indicates urgency. There is no urgency. There is no oomph beyond this trend up," he said. He added that the Dow is nearing 11,000 and S&P 500 is approaching 1,200 -- two technically important milestones. So it will be interesting to see if stocks can pass those levels or if they'll stall out.
Harris argued that the main reason retail investors are still wary of stocks and talk of an economic recovery is because the labor market is, to put it mildly, still anemic.
The national unemployment rate is 9.7%. But it feels a lot worse than that when you factor in the large number of so-called underemployed who are working part-time jobs and people who've been so disillusioned that they've simply given up looking for work.
"Jobs are the final piece to the puzzle. If the economy is going to move beyond recovery and back into an actual expansion phase, we need employment to pick up," he said.
The glass is half full
But it's not all bad news for investors. Harris said there are several encouraging signs, most notably the fact that manufacturing stocks are propelling the market higher. Boeing (BA, Fortune 500) is the top performer in the Dow this year, followed by General Electric (GE, Fortune 500). Caterpillar (CAT, Fortune 500) is doing well too.
That's promising since manufacturing is a sector that is extremely cyclical. The move higher could be viewed as evidence that investors believe the economic recovery in not just the U.S., but around the world is for real.
Kosar pointed out that small cap companies and technology stocks, which tend to lead market rallies, also performed well in the first quarter. If that trend continues, that could be yet another signal that investors are betting on better economic times ahead.
Other cyclical sectors have enjoyed a nice pop this year too. Consumer companies are doing well. Home Depot (HD, Fortune 500) is the fourth best Dow performer while Estee Lauder (EL, Fortune 500) and Limited Brands (LTD, Fortune 500) are among the top stocks in the S&P 500.
"As long as the global recovery theme remains intact, that will benefit the more cyclical sectors like retail, technology, energy and materials," said James Shelton, chief investment officer with Kanaly Trust Company in Houston, Tx.
Shelton thinks first quarter earnings, which companies will start reporting in April, should be pretty strong when compared to a year ago. That's not saying much, of course, but any evidence that shows both corporate sales and profits are really improving should be welcomed by the market.

And in some respects, the fact that the economy is still just slowly emerging from the depths of the crisis could also help stocks. Shelton said that as long as the dollar continues to strengthen and commodity prices remain relatively in check, there's no reason to worry about the Federal Reserve raising interest rates anytime soon.
"There's no evidence of inflation and the Fed appears to be on hold for some time. That could lead to more upside for stocks this year," he said.
- The opinions expressed in this commentary are solely those of Paul R. La Monica.