Verizon vs. AT&T: They're both losers
NEW YORK (CNNMoney.com) -- The tech world's been aflutter all week with speculation about whether Apple will finally unveil an iPhone for Verizon Wireless and what that will mean for AT&T, currently the exclusive iPhone carrier in the U.S.
But guess what? This may matter little to investors. The two big telecom stocks, which lagged the market's big rally in 2009, have fared even worse so far this year.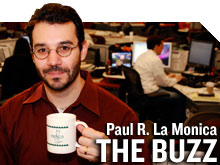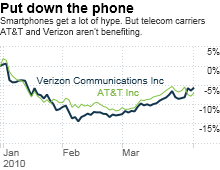 Shares of Verizon (VZ, Fortune 500) fell 6% in the first quarter while Ma Bell's shares sank more than 7%. The only component of the Dow Jones industrial average to fare worse in the first three months of 2010 was Alcoa.
Simply put, the two telecom titans just aren't able to impress Wall Street because their growth prospects remain unexciting.
Even though there's constant hype about hot new smartphones and app wars among the likes of Apple (AAPL, Fortune 500), Research in Motion (RIMM) and Google (GOOG, Fortune 500), investors realize that Verizon and AT&T (T, Fortune 500) don't stand to gain as much as other companies from the explosion in wireless data services.
The problem for the telecom carriers is that it's going to be increasingly difficult to find new subscribers. The mobile phone market is pretty saturated at this point. Verizon and AT&T are merely battling to keep their own customers and steal a few from rivals here and there.
So the excitement surrounding the release of new phones does little to help Verizon and AT&T since your iPhones, Android-enabled smartphones and new BlackBerry models are mostly being bought by existing users.
In fact, the more intense the competition between Verizon and AT&T, the more likely it is that there will be price wars to attract and keep customers. So the best days for wireless could be behind Verizon and AT&T.
The two companies could also face pressure from carriers that tout cheaper pre-paid plans, such as Leap Wireless. (LEAP) Leap recently unveiled a $30 per month plan through its Cricket service.
Greg Miller, an analyst with Collins Stewart, wrote in a report last week that Leap's announcement "confirms our belief of intensifying competition -- especially in the prepaid segment of the industry, as carriers respond to the trend of slowing wireless growth."
Miller argued that Sprint (S, Fortune 500) probably stands to lose the most from any price cuts, but lower price plans across the board are clearly bad news for the entire telecom industry.
Making matters worse for AT&T and Verizon is that the two companies still have large, traditional businesses that are continuing to decline.
Operating profit for AT&T's landline voice segment, which accounted for more than 30% of the company's sales last year, fell 29% from 2008. So even though profit in its larger wireless division was up 20% annually, AT&T still is struggling to grow. Total operating income sank 7%..
The same was true at Verizon. Wireless operating profit surged 25% last year from 2008, but wireline profit sank 49%. Total operating income for Verizon fell 17%.
It's difficult to imagine how the wireline business will do better anytime soon. Both Verizon and AT&T rely heavily on corporate customers in their traditional landline business. And, in case you forgot, the job market still isn't getting much better -- which reduces the demand for phone lines.
"The growth just isn't there anymore. Some argue we're in a jobless recovery and the telcos haven't seen their business customers start spending again. Businesses are not hiring yet," said Todd Rethemeier, an analyst with Hudson Square Research.
Finally, the cable and satellite television companies are still doing a good job of hanging on to customers for video and high-speed Internet services -- despite relentless marketing pushes from Verizon for its FiOS product and AT&T for its U-Verse service.
It's not that FiOS and U-Verse aren't growing. But the growth can't mask problems elsewhere -- or make a big enough dent to really hurt the cable and satellite kings.
In a report last week, Sanford Bernstein analyst Craig Moffett wrote that "video growth has been something of a sideshow" for Verizon and AT&T.
He added that 2009 was probably the peak year for Verizon and AT&T in terms of adding subscribers for video, and that competitive pressure posed by Verizon and AT&T on cable and satellite providers is likely to "meaningfully subside." That's bad news.
"The narrative (if not the reality) that a new wired network offered promise of growth has been an important one for investors," Moffett wrote.
It's no wonder then that while Verizon and AT&T continue to slump, shares of Comcast (CMCSA, Fortune 500), Time Warner Cable (TWC) and DirecTV (DTV, Fortune 500) are all up this year.
Analysts are projecting just a 5% annual earnings growth rate, on average, for Verizon over the next few years and a 6% growth rate for AT&T. So, at this point, it's hard to like either Verizon or AT&T unless you are a classic widow-and-orphan investor hungry for the security of fixed income.
Verizon pays a dividend that yields an impressive 6% while AT&T's yields 6.5%. That's much better than long-term Treasury yields and even some real estate investment trusts.
Rethemeier points out both stocks are cheap -- AT&T trades for 12 times 2010 earnings estimates and Verizon has a P/E of 13. But they've been cheap for a long time and that hasn't helped. AT&T and Verizon look like your classic value trap.
Time for some fun in the sun: The Buzz is going on a much needed vacation. So no columns until Monday, April 12. I'll go back to my usual Friday routine of highlighting reader comments of the week (as well as doing more Buzz videos) once I return.
- The opinions expressed in this commentary are solely those of Paul R. La Monica.