Buy vs. rent: The great debate
NEW YORK (CNNMoney.com) -- It seems that many of you don't own a home and have absolutely no problem with that, thank you very much.
I received a ton of reader feedback for yesterday's column about whether renting may be the new American dream. Thanks to all who sent e-mails and apologies to those of you that I did not have a chance to reply to.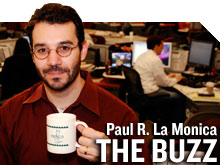 Although the results of our admittedly unscientific poll showed that nearly half of the respondents are homeowners not looking to go anywhere, many readers e-mailed with stories about why they were happy to not be stuck with a mortgage.
Full disclosure. I'm an owner. Kind of. My wife and I bought a co-op apartment in the spring of 2007. So I guess I technically own shares of a company as opposed to actual property.
Still, we get to paint the walls whatever color we like and we're actually building equity. That makes us happy. But many of you wrote in to say that owning isn't all it's cracked up to be.
Rent equals greater freedom
Jayson in Denver said that he and his wife now rent after selling their house in the Northeast. And he's not regretting it at all.
"Home ownership was good to us, but we're cautious in this economy ... having the cash from our house sitting in the bank adds to our rainy day fund giving even greater security. I'm really happy to be renting after 10 years of home ownership."
Paul Stoube in Muscatine, Iowa, also wrote in to explain why he's loving life as a tenant as opposed to an owner.
"Not only do I not miss mowing grass, shoveling snow or tending to the many other numerous joys of home ownership, but I surely enjoy the nearly one third lower monthly payment too."
That's a great point that was shared by some other readers. There's a notion that a reason to buy is that a monthly mortgage should be cheaper than rent. But for many, like Tom in Tucson, Ariz., it's less expensive to rent.
"I was just dumb lucky I guess, and sold my Tucson, Ariz., home in October 2007. I missed the top, but missed most of the drop also. We've rented since, in a much nicer house and nicer neighborhood for less money. Net worth continues to rise, for us."
Those who bought with little-to-no money down (even without an exploding ARM) may find that mortgage payments are more suffocating than monthly rent. Plus, when you add up all the costs that an owner has to deal with that a tenant does not, home ownership can turn out to be a costly investment.
Ownership is the way to go
Of course, many haven't given up on the American dream and still believe in the notion that it's better to own than rent.
Matt Steinmetz in Philadelphia said that he's "a long-time renter who now finds himself suddenly on the doorsteps of buying his first home" and is glad to be leaving the days of rent behind.
Steinmetz pointed out that since he and his wife were able to put about 20% down on their home, the mortgage should be roughly the same, if not less, than what they were paying to rent. So they're excited to be buying.
"Mortgage rates are still at or near record lows. Living in the Philadelphia area, housing prices have remained pretty stable ... We are ready to write a check each month that goes toward our future, rather than our landlord's."
Other readers like Jean Ouyang said they want to buy, but are still waiting for bubble-era prices to drop further.
"We've been renting since 2000 when my husband and I sold our West 68th Street apartment in New York and moved to San Diego. We were always looking to buy a property but, at the end of the day, San Diego was very overpriced ... The numbers did not make any sense and we stuck to our guns! 10 years later, we're still renting in La Jolla. And yes, we're still looking."
Pete Wendt in Los Angeles said he's renting with his brother and saving up to hopefully to purchase something in two or three years.
"I am definitely on the sidelines and waiting to buy. I graduated from college in 1995, and just about the time I started thinking about buying, prices started skyrocketing. It just never seemed possible. Thank god I didn't get some crazy mortgage."
For younger people that want to own property, many are finding they have to wait even longer. Kareem Abdelsadek, a recent college graduate who lives in Rockville, Md., said he's also eager to buy. But he hasn't saved up enough to do so just yet.
"I graduated from Penn State with an IT degree in 2008 and was one of the lucky few who was able to find a job during our economic turmoil. My plan was to purchase a condo as quickly as possible ... I am now living in the least expensive yet still livable apartment I could find in order to save up enough money for the required down payment ... At this current rate I will reach my goal of buying in about 6 more years."
But there's nothing wrong with that plan. In fact, Cynthia Loyd-Johnson, a housing counselor in Walls, Miss., said that more people should be doing what Kareem is doing.
"I always let my clients know that everyone will not be a homeowner and that renting is not the worst thing in the world ... I don't want people to automatically think that renting is for losers. Renting is not for losers. Renting is for people who may not be ready to purchase at the moment ...and that makes them responsible."
Well said, Cynthia. Ownership isn't for everyone -- and it's clearly better to rent until you've saved up enough for a down payment. So whether you're looking to buy or happily renting, just make sure you can afford to live wherever it is you call home.
- The opinions expressed in this commentary are solely those of Paul R. La Monica.