BP loses $32 billion in value on spill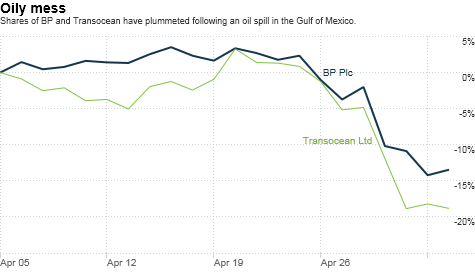 NEW YORK (CNNMoney.com) -- Oil giant BP has a marketing slogan dubbed "Beyond Petroleum." If only that were true. That ad campaign has to rank up there with Toyota's "Moving Forward" motto as the most unintentionally hilarious of the year.
The disastrous oil spill at a BP well in the Gulf of Mexico following an explosion last month has brought back painful reminders of the Exxon Valdez mess in 1989.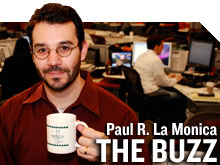 But it's also got some investors wondering if shares of BP (BP), which have fallen 17% since the explosion on April 20, are now worth a buy or if they should continue to be avoided.
It may seem callous to ask the question, especially when you consider that eleven workers at the rig are still missing and presumed dead. Plus, the environmental impact of the spill is expected to be catastrophic. But this is a financial site and BP is publicly traded. So here goes.
On the one hand, it would appear that the pummeling the stock has taken is an overreaction. Various estimates for how much it could cost to clean up the spill range from $3 billion to more than $12 billion. But BP has lost about $32 billion in market value in the past few weeks.
What's more, BP's stock is now trading at a sizeable discount to other big oil firms. BP is valued at just 7.5 times 2010 earnings estimates while Chevron (CVX, Fortune 500) is trading at 9.5 times this year's forecasts and Exxon Mobil (XOM, Fortune 500) has a price-to-earnings ratio of 11.
But is BP really as cheap as it seems? Analysts have yet to cut their 2010 forecasts to account for the spill. So the plunge in BP's stock may very well be based on the expectation that profit targets will eventually be slashed drastically.
It's also impossible to know just how much of a hit BP will really take for clean-up costs and legal liabilities. The estimates rise every day.
"This will be a financial calamity for many firms, not just BP and its partners and service providers. Their liabilities are immense and must not be underestimated," wrote David Kotok, chairman and chief investment officer Cumberland Advisors, a Sarasota, Fla.-based investment firm, in a report last week. The firm does not own shares of BP.
You also can't underestimate the fact that the oil spill is a justified public relations nightmare for BP as well as rig operator Transocean (RIG), whose stock has fallen 20%.
And it's much harder to quantify what a series of negative news stories and attacks by politicians can do to a stock and how long the ill will can last.
"We're going to see more politicians calling for investigations and environmental groups attacking these companies," said Malcolm Gissen, manager of the Encompass fund in San Francisco, which doesn't own BP or Transocean. "This will be in the news for weeks to come. I would not buy the stocks at this point."
Just take a look at how shares of coal miner Massey Energy (MEE) have done since 29 miners died following an explosion at a Massey mine in West Virginia last month. The company has come under intense scrutiny about safety issues at the mine and the stock has plunged 31% since then.
And Wall Street titan Goldman Sachs (GS, Fortune 500) is still reeling after the SEC announced fraud allegations against it last month. Its stock has fallen nearly 20% as Goldman has since become the subject of a couple of shareholder lawsuits and has been downgraded by several analysts.
What BP, Massey and Goldman all have in common is that their reputations have taken a huge blow. It's harder for consumers and investors to trust them.
You can probably add Toyota (TM) to that list too. Despite some signs that it's finally getting the worst of its recall woes behind it, the automaker's stock is still down about 20% since mid-January.
But looking past the PR problems, there's another reason to probably be wary of BP. Longer-term, it's possible that the Gulf oil spill could put a stop to what had been growing momentum for more offshore drilling. That could serve as a further hit to profits at BP as well as other big oil companies.
Sen .Bill Nelson, D-Fla., has been saying that any climate bill with offshore drilling plans in it would be "dead on arrival." On Monday, California governor Arnold Schwarzenegger pulled support for a proposal to expand offshore drilling off the coast of the Golden State..
And the cries of "Drill, baby, drill" may continue to grow softer as stories about fishermen losing their livelihood and pictures of oil-covered pelicans dominate the news.
David Pursell, managing director with Tudor, Pickering, Holt & Co., a Houston-based investment bank focusing on the energy industry, said it's still hard to tell if there will be a major slowdown in drilling because of the spill.
But he thinks that some other oil companies with exposure in the Gulf, such as Cameron International (CAM, Fortune 500), Halliburton (HAL, Fortune 500) and Smith International (SII, Fortune 500), may have been punished too much in a sector-wide selloff.
Still, no matter how cheap BP now seems, it's probably wise to steer clear of the stock.
"BP is the operator of record. It's their rig. They call all the shots. Ultimately, it's their responsibility," said Pursell.
Tin roof, rusted! With auto companies reporting April sales yesterday, I felt compelled over on Twitter to issue yet another of my silly pop culture trivia challenges. I asked my followers for the source of this following lyric mentioning one of Detroit's Big 3. "Hop in my Chrysler. It's as big as a whale and it's about to set sail!"
The winner is none other than CNNMoney.com's auto writer extraordinaire Peter Valdes-Dapena. He was the first to point out this was from the immortal party tune "Love Shack" by the B-52s. So since Peter won, he not only gets a shout-out but a shameless plug too. Go sign up to follow Pete's tweets @PeterDrives.
- The opinions expressed in this commentary are solely those of Paul R. La Monica.