Greece worries rattle world markets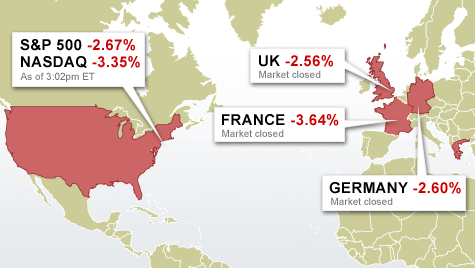 NEW YORK (CNNMoney.com) -- World stock markets tumbled on Tuesday as investors worried that the recently announced bailout package for Greece wouldn't be enough to stop a debt crisis from spreading to other nations.
Stocks in North America, South America, Asia and Europe were all down as investors fled to safer assets such as gold, treasurys and the U.S. dollar.
"There's a realization in the market that even if we get this bailout for Greece, there are still more issues that we have to address, like whether we're going to have to bail out countries like Spain and Portugal next," said Ralph Aldis, a portfolio manager at U.S. Global Investors.
Greece bailout: European leaders announced a $146 billion aid package for Greece over the weekend, which initially eased investors' concerns that the nation would be forced to default.
But after a "temporary relief rally" from world markets on Monday following the aid package's announcement, Aldis said investors began to realize that the bailout won't cure the mounting debt in other countries around the world.
Investors are also worried by the Greek public's reaction to the strict austerity measures included in the conditions of the aid agreement, and are concerned that the other 15 members of the euro zone may not fully support the bailout.
"There's still a fear of everything going to peril," said Aldis. "We don't know if Germany and the other countries are really on board with this, especially when Greece is out there protesting the austerity measures."
U.S. markets: In the U.S., the Dow industrial average (INDU) lost 225 points, or 2%, after falling the most since February in earlier trading. The S&P 500 (SPX) index fell 29 points, or more than 2.4%. The Nasdaq composite (COMP) dropped 74 points, or 3%.
Overseas trading: In Europe, France's CAC 40 was down 3.6%, Germany's DAX fell 2.6%, and London's FTSE dropped about 3%.
Stocks closed sharply lower in Greece, Spain and Portugal, three of the countries that make up the so-called PIIGS, a group of five nations that have worried investors with their increasing debt. With Greece asking for a massive bailout, investors worry that Spain and Portugal could be next.
Asian markets were under pressure as well, with Hong Kong's Hang Seng index down 0.2%. The Japanese Nikkei was closed for a national holiday. The Shanghai Composite in China lost more than 1%.
Markets fell in South America, with Brazil's Bovespa index down nearly 3% and Mexico's IPC index down about 2%.
Safe havens: Meanwhile, the dollar rallied to a one-year high versus the euro, gold prices soared to the highest level in five months and U.S. treasurys climbed on Tuesday as investors exited riskier investments.
The strong dollar pressured crude oil prices, which fell 4% to settle at $82.74.