Stocks gain as European fears fade
NEW YORK (CNNMoney.com) -- Stocks rallied Wednesday, with the Dow logging triple-digit gains, as European debt noise faded and investors focused on an improving domestic economy and corporate earnings.
The Dow Jones industrial average (INDU) gained 149 points, or 1.4%, ending for the first time above last Wednesday's close, before turmoil swept through the market, culminating in last Thursday's flash crash.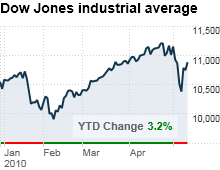 The S&P 500 index (SPX) added 16 points, or 1.4%, and the Nasdaq composite (COMP) rose 50 points, or 2.1%.
Tech and industrial stocks led the advance. Shares of Intel (INTC, Fortune 500), IBM (IBM, Fortune 500) and Cisco Systems (CSCO, Fortune 500), which reported its best quarter even after the close, finished up more than 3%. Manufacturers Boeing (BA, Fortune 500), Caterpillar (CAT, Fortune 500) and Du Pont (DD, Fortune 500) gained more than than 2%.
"At these early stages of an economic recovery, those sectors should be doing well on good days," said Paul Radeky, president of KDV Wealth Management. He added that investors are gaining confidence for riskier assets, such as stocks, because corporate earnings are coming in strong.
Stocks finished lower Tuesday in a volatile session as investors digested a $1 trillion European aid package, but remained cautious amid ongoing fears that the Greek debt crisis could spread to other nations if they don't work to reduce deficits.
"There seems to be less of a focus on the European debt problems in the marketplace, so we're seeing some buying" said Peter Cardillo, chief market economist at Avalon Partners. "The trade deficit report also came in better than we were expecting, so there's some build from that."
Investors were also calmed by Spain's Prime Minister Jose Luis Rodiguez Zapatero's announcement that civil servant salaries will be cut by 5% beginning in June in an effort to reduce costs.
The CBOE Volatility index, or the VIX (VIX), Wall Street's fear gauge, dipped 9%. Last week, the measure had shot up to 13-month highs as investors remained nervous about the sovereign debt crisis.
But Cardillo cautioned that fiscal problems in Europe will continue to resurface as long as deficits remain high.
He added that the market should begin to consolidate after the recent volatility and move into a tighter trading range, gearing up for a "solid bull run" in the second half of the year.
Economy: The Commerce Department said the trade deficit increased 2.5% in March, widening to $40.4 billion from a downwardly revised $39.4 billion the previous month. That was lower than the $40.5 billion that analysts surveyed by Briefing.com expected.
The Treasury reported the 19th consecutive monthly deficit, with a shortfall of $82.7 billion in its April budget. That's much larger than the $52 billion gap economists were expecting during month, and it also topped March's $65.4 billion deficit. Historically, the government's budget posts a surplus during the month thanks to the April 15 tax filing deadline.
Companies: U.S. federal prosecutors are looking into whether Morgan Stanley (MS, Fortune 500) misled investors about complex mortgage derivatives it designed, according to the Wall Street Journal. The company, however, denies any knowledge of the investigation. Shares of the bank fell more than 2%.
After the closing bell, Cisco Systems posted a fiscal third-quarter profit that surged 63% to $2.2 billion from a year earlier. Adjusted for one-time charges, the network equipment maker earned 42 cents per share, beating analyst estimates of 39 cents per share. Sales climbed 27% to $10.4 billion and also topped analysts' expectations. Shares of the company fell 1% in after-hours trading.
Disney (DIS, Fortune 500) reported profit and revenue that beat analysts' expectations late Tuesday. Thanks to the success of "Alice in Wonderland," the media giant's profit surged 55% to $953 million, or 48 cents per share, and sales climbed 6% to $8.58 billion. Stock in Disney ended 1.8% lower.
World markets: Stocks gained in Europe as the gross domestic product in the European Union rose 0.2% last quarter. Britain's FTSE 100 and France's CAC 40 finished up about 1%, and Germany's DAX rose more than 2.6%.
In Asia, Japan's Nikkei index closed 0.2% lower and the Hang Seng in Hong Kong ended up 0.3%.
Dollar and commodities: The dollar erased earlier losses and turned higher against the euro in the afternoon, rising 0.2%. The greenback also gained 0.9% against the British pound and was up 0.6% against the Japanese yen.
Gold prices continued to soar, rising $23.20 an ounce, or 1.9%, to settle at a record $1,243.50.
U.S. light crude oil slipped 72 cents, or 1%, to settle at $75.65 a barrel after a larger-than-expected build in crude supplies.
Bonds: Treasury prices extended gains, with the benchmark 10-year yield up to 3.63%, after a $24 billion auction of 10-year notes. Bond prices and yields move in opposite directions.
Market breadth was positive. On the New York Stock Exchange, winners topped losers six to one on volume of 1.3 billion shares. On the Nasdaq, advancers beat decliners five to one on volume of 2.3 billion shares.