Does Amazon want to buy Netflix?
NEW YORK (CNNMoney.com) -- It would be a marriage made in e-commerce heaven: Amazon.com and Netflix. Too bad it probably will never happen.
Shares of Netflix (NFLX), the wildly popular online DVD rental and streaming video service, surged Thursday, hitting a new all-time high. The company clearly is gaining momentum, largely at the expense of the apparent demise of Blockbuster (BBI, Fortune 500).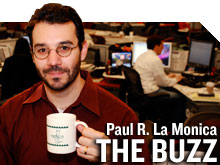 But the main reason cited for Thursday's pop was the revival of chatter about Amazon.com (AMZN, Fortune 500) being interested in buying Netflix. Trust me, it's probably not going to happen.
Representatives from Netflix and Amazon both declined to comment on the merger speculation. But the Amazon-for-Netflix story is getting a little long in the tooth. I first wrote about it back in February -- of 2005.
Analysts who cover Netflix are dubious as well. Three analysts cut their ratings on the stock in the past two days, including a downgrade by UBS to a "sell" on Thursday.
The downgrades were mainly based on concerns that the stock has run up too far and too fast lately. Netflix dropped more than 8% Friday as a result.
Still, there must be some reason why this rumor just won't die, right? And stranger things have happened in the world of tech.
After all, scuttlebutt about HP (HPQ, Fortune 500) wanting to buy Palm (PALM) surfaced every now and then for years, only to be shot down every time as mere rumor. But, lo and behold, HP finally pulled the trigger and agreed to buy Palm last month. So the rumors were clearly more than just idle, unsubstantiated chit-chat.
Of course, there's a big difference between Palm and Netflix. Palm is falling woefully behind in the smartphone race and there were fears it would eventually run out of cash.
Netflix is in a position of strength as it capitalizes on the shift to digital video that's dooming the likes of Blockbuster and Movie Gallery, which announced earlier this week that it is shutting down its chain of Hollywood Video stores.
As such, Netflix has no compelling reason to sell out. It's not in a distressed situation. And for that reason, Amazon would risk overpaying for Netflix if it seriously wanted to buy it now.
Netflix now has a market value of nearly $5.5 billion, and one would have to think that if takeover talks were for real, Netflix would command a premium to its current price.
Besides the issue of how much it would cost to buy Netflix, it's also debatable why Amazon would want or need Netflix in the first place.
Eric Wold, an analyst with Merriman Curhan Ford who was one of the three to recently downgrade Netflix, said the biggest reason Amazon would probably be wary of buying Netflix is because an acquisition would boost Amazon's number of distribution centers.
Wold noted that Amazon has made an effort to pare back the number of distribution centers in recent years in order to be more efficient and cut costs. It also is trying to avoid having to charge as many customers taxes in states where online purchases are subject to a sales tax.
"This rumor has been around for years and comes up every couple of months, " Wold said. "But there are always more valid reasons why it shouldn't happen as opposed to why it will happen."
Sure, Netflix has grown phenomenally over the past few years. It has done a fantastic job of striking favorable deals with the Hollywood studios so it can offer subscribers new releases in a timely fashion and expand its library of DVDs beyond current hits.
But Amazon already offers movie downloads for rent on its own site and has a fairly wide selection of its own. It's also less clear if Netflix really will remain the winner in the video market over the long haul given that Apple (AAPL, Fortune 500) is making waves with the iPad.
There's also increased competition from the likes of Wal-Mart (WMT, Fortune 500) via its recent acquisition of Vudu. Finally, Redbox, the $1 DVD kiosk service owned by Coinstar (CSTR), is growing like a weed - and proving in the process that there's still a market for physical DVDs.
It may be a digital world but people are still apparently willing to get their butts off the couch and drive to a store to pick up a movie if the price is right.
In fact, Wold argued that Coinstar's stock is now a better bargain than Netflix.
None of this is to suggest that Netflix is in trouble. The company is likely to keep adding subscribers at a rapid clip and that should lead to significant increases in sales and profits. But investors know that, and the stock is now simply too pricey.
Investors are either ignoring the growing competitive risks or naively believing that Amazon is really going to add Netflix to its queue at long last.
Reader comment of the week: Some interesting feedback on Thursday's piece about why the comeback in luxury goods may not be the worst thing in the world. Unsurprisingly, there was the typical doom and gloom about the U.S. economy.
But Jason Marks points out that too much negativity can just make things worse. "Sure, some consumers might be getting a little over-optimistic about the economy, but the optimism will help the recovery. It's the same way that pessimistic consumers fueled the downturn by cutting spending, which resulted in layoffs. Both optimism and pessimism fuel themselves."
- The opinions expressed in this commentary are solely those of Paul R. La Monica.