Secret 3: get the skills you need on the cheap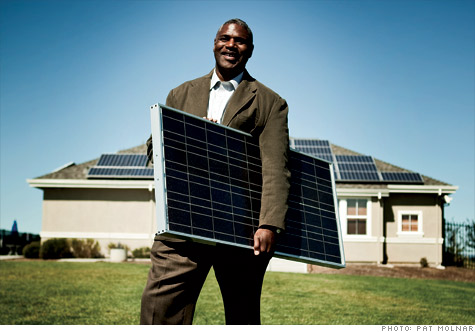 Laid off for the third time in two years in 2009, Mitchell Smith decided it was time to take his career in a new direction. Smith had spent the previous 15 years selling educational software around the San Francisco Bay area. Over that time, however, it had become increasingly difficult to convince budget-beleaguered schools to invest. "I wanted to be in a job where I felt like I was making a difference, but I also wanted a more stable career," says Smith.
He was intrigued by solar-panel technology, especially after hearing how much government money was being directed to alternative energy. But with two school-age children still at home, Smith didn't have a lot of time or money to invest in training for a job in this field. So he looked for quick and dirt-cheap ways of getting the skills he needed.
How he did it:
By identifying his skill shortfall. Smith, who had been a training manager for a construction firm earlier in his career, knew area firms were expanding into solar-panel installation for homes and businesses. To make contacts, he attended several conferences and seminars on green building. After talking with people at the events, he realized that it would be hard for him to get a job without earning a solar certification.
By seeking out subsidies. Through a counselor in his city's employment office, Smith discovered a five-week solar-installation training program that helped him earn the certification he needed -- and it was free to unemployed residents of the area.
By billing his old employer. Smith got tuition assistance as part of his severance package. So he mined that benefit to help pay for a train-the-trainers course at Ohlone College, which taught him to teach others how to put in the panels. That course in particular helped Smith land a job earlier this year as a training manager and job-placement coordinator at Solar Richmond, a nonprofit focused on residential panel installation.
"I took advantage of every opportunity to get the skills I needed, and it paid off," says Smith. "In total I only spent a few hundred dollars to get thousands of dollars' worth of training." He earns considerably less than he did -- $50,000, down from $85,000 before. But he has the potential to earn more, as he's working on the side to help a solar-installation firm win bids. Besides, he says, "I love what I do, and it's a lot more secure."
How you can do it too:
For many occupations, specific certifications and training are required. Even if such credentials are not mandatory, however, they may make you a more attractive candidate -- especially if you don't have on-the-job experience, says Kim Bishop, an executive recruiter in New York. To figure out what you need, review job postings and do informational interviews at firms you're targeting.
As Smith was glad to discover, you may be able to get training at reduced cost, especially if you've lost your job. Start with city and state Department of Labor websites -- at which you can find no- and low-cost government-sponsored programs. Also, professional associations and trade groups often provide inexpensive development workshops, and many community colleges offer low-cost courses aimed at folks ages 50 and up.

Secret 1: Show how your talents translate

Secret 2: network outside the box

Secret 4: get your finances in order

Secret 5: turn your passion into an asset