Dow ends below 10,000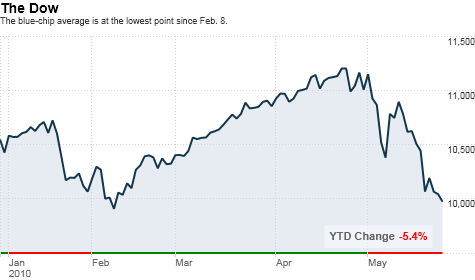 NEW YORK (CNNMoney.com) -- Stocks erased gains by the close Wednesday, with the Dow ending below 10,000 for the first time in three months, as worries about global growth and a slide in the euro overshadowed upbeat economic news.
The Dow Jones industrial average (INDU) lost nearly 70 points, or 0.7%, ending at the lowest point since Feb. 8. The S&P 500 (SPX) index lost 6 points, or 0.6%, and the Nasdaq (COMP) lost 15 points, or 0.7%.
A global market rally and a strong housing market report gave stocks a boost in the morning, but trading was choppy through the rest of the session as the euro weakened. Stocks slipped in the last hour of trading.
Stocks have tumbled in May, with the three major indexes all losing more than 10% each, falling into "correction" mode as investors have worried that Europe's growing debt crisis is going to cut into U.S. and global economic growth.
A $1 trillion aid package announced by European leaders helped temper, but not eliminate, worries about the threat of so-called contagion stemming from problems with debt-plagued nations.
Greece got the ball rolling, but concerns remain about the other so-called PIIGS -- Portugal, Italy, Ireland and most recently, Spain. News that Spain's central bank had to take over one of the nation's oldest savings banks over the weekend ushered in the latest wave of European-crisis driven worries. Reports of heightened tensions between North and South Korea added to jitters Tuesday.
Whether the stock correction - a decline of more than 10% off the highs - becomes a bear market - a drop of 20% to 30% off the highs - remains to be seen.
"A lot of indicators I watch suggest there is a turnaround coming, but the problem is the pullback has been pretty dramatic," said Randy Frederick, director of trading and derivatives at Charles Schwab.
He said that a lot of investors who were skeptical of the huge rally off the March 2009 lows have been waiting for the ideal pullback to get back in, after several smaller pullbacks failed to cross the 10% threshold.
"That pullback is here," he said. "The question is whether they have enough nerve to come back in or will they look at it as evidence that the runup was a false rally."
Euro: The European currency has seesawed since falling to a four-year low of $1.2146 last week.
On Wednesday, the euro fell 1.4% versus the dollar but remained above that four-year low. The dollar lost 0.3% against the yen.
Volatility: The CBOE Volatility index, or the VIX (VIX), Wall Street's fear factor, ended modestly higher after having fallen through most of the session. The VIX had dropped as much as 13% as the market initially rallied, but turned higher when stocks fell.
Economy: New home sales jumped 15% in April, thanks to still-low mortgage rates and a homebuyer tax credit that expired at the end of last month. Sales rose to a seasonally adjusted rate of 504,000 from a revised 439,000 in the previous month. Economists surveyed by Briefing.com expected sales of 425,000.
Another report released before the start of trading showed that durable goods orders rose 2.9% in April, versus forecasts for a gain of 1.5%. Goods orders were flat in March, a revision on an earlier reading that showed a drop in orders.
However, orders excluding transportation fell 1% after rising 4.8% in the previous month. Economists thought orders excluding transportation would rise 0.7%.
World markets: Stocks around the world rebounded. Markets in Europe gained in late trading. Britain's FTSE 100 rose 2%, Germany's DAX gained 1.6% and France's CAC 40 climbed 2.3%.
Asian markets also bounced back following a steep sell-off Tuesday on increased tension between North and South Korea. Japan's Nikkei gained 0.7% and Hong Kong's Hang Seng rose 1.1%. China's Shanghai Composite ended just above unchanged.
Commodities: U.S. light crude oil for July delivery rose $2.76 to settle at $71.51 a barrel on the New York Mercantile Exchange, a gain of over 4%.
COMEX gold for June delivery rose $15.40 to settle at $1,213.40 an ounce.
Bonds: Treasury prices tumbled, raising the yield on the 10-year note to 3.24% from 3.16% late Tuesday. Treasury prices and yields move in opposite directions.
Trading volume: Market breadth was positive. On the New York Stock Exchange, winners beat losers three to two on volume of 1.94 billion shares. On the Nasdaq, advancers topped decliners seven to six on volume of 3.08 billion shares.