Seize BP! No, wait...
NEW YORK (CNNMoney.com) -- Mortgage giants Fannie Mae and Freddie Mac are controlled by the U.S. government. Washington also owns huge stakes in insurer AIG and General Motors. So is it time for D.C. to take over BP as well?
As the news from the Gulf of Mexico gets worse by the day, there are growing calls for the government to take even stronger action against the oil conglomerate.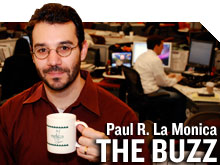 A grassroots campaign dubbed Seize BP is holding demonstrations in more than 50 cities from June 3 through June 5.
The movement got a big shot in the arm earlier this week after former Labor Secretary Robert Reich wrote on his blog that "it's time for the federal government to put BP under temporary receivership." (Reich is now a professor of public policy at the University of California at Berkeley.)
While there is no denying that BP (BP) has done a terrible job of containing the oil spill in the aftermath of a tragic rig explosion on April 20, I'm not sure that a Washington takeover of BP's North American assets is the right way to solve the crisis.
For one, there's the pesky fact that BP is not based in the U.S. The B stands for British after all.
Those calling for a seizure of BP's assets say there is some legal precedent for governments seizing control of assets of foreign companies as long as those assets pose a legitimate domestic threat -- and it's clear that the tar balls washing up in the marshes of Louisiana qualify as such.
But even if the government could get away with it legally, it's a dicey proposition to take control of a company that's not headquartered here. The political ramifications could be costly.
If anything, the U.S. should simply follow the golden rule of doing unto others as you'd have done to you.
Seriously, can you imagine how outraged U.S. politicians and the American people would be if there was an oil spill in an Exxon Mobil rig in the North Sea and the British or Dutch or Norwegians proposed nationalizing those assets in order to take care of the clean up?
Sure, other countries have taken control of foreign assets when they saw fit, including Venezuela and Russia. Are those really examples we want to follow?
Then there's the issue of what exactly a government takeover of BP would look like.
Reich argued in his post that if the government can take over AIG and GM and replace their CEOs, it should also be able to put BP's operations into receivership.
This isn't an apples to apples comparison though. The government is now the primary shareholder of AIG and GM. Its massive financial stake in those companies is what allows it to call the shots. Washington didn't merely take AIG and GM over, it bailed them out to keep them afloat.
Does anyone really think that the government should now add Big Oil to the list of bailed out industries? If the government is actually going to seize BP assets, then doesn't the act of doing so mean that the U.S. taxpayer is now implicitly backing BP?
What happens if the government takes temporary control of BP assets and the costs of the spill grow so astronomically large that BP can't handle them? Would the U.S. then be on the hook to pay for the spill?
Hopefully it won't come to that. Despite the pummeling that BP's stock has taken in the past month, it doesn't appear just yet that the company's financial situation is as dire as was the case with Fannie (FNM, Fortune 500), Freddie (FRE, Fortune 500), AIG (AIG, Fortune 500) and GM.
So what Washington needs to do is make sure that BP pays for the clean up costs as well as any viable legal claims tied to the economic and environmental disaster that the spill is creating for the citizens of the Gulf Coast.
Along those lines, U.S. Attorney General Eric Holder's tough talk about a criminal and civil probe of BP is a step in the right direction.
"That's absolutely appropriate. Legislative tinkering is not necessary. This is why BP's stock is down so much. People know they are going to have to pay for this clean up," said Jeffrey Rachlinski, a professor of law at Cornell University and an expert in environmental law.
Rachlinski said that there is some precedent for freezing assets of U.S. subsidiaries of foreign companies. But that is only when there is legitimate concern that those assets could be transferred out of the U.S. That's not the case here.
"Most of BP's assets in the U.S. are not mobile. They're not exactly a shell corporation. It's not going to be difficult to enforce judgment against them and any judgment is likely to be extensive," he said.
So Washington doesn't have to take over BP in order to hold it accountable. It just needs to enforce existing laws and keep the pressure on the company. More government interference could arguably make the situation worse, not better.
"There is no evidence that the Coast Guard or other government agency has any idea of how to contain this better than BP does," Rachlinski said.
What do you think? Should the U.S. government seize BP's U.S. assets in order to take control of the Gulf oil spill clean-up? Leave your comments below or e-mail me and I may feature reader comments in a follow-up column or video.
- The opinions expressed in this commentary are solely those of Paul R. La Monica.