BP agrees to $20 billion fund for spill costs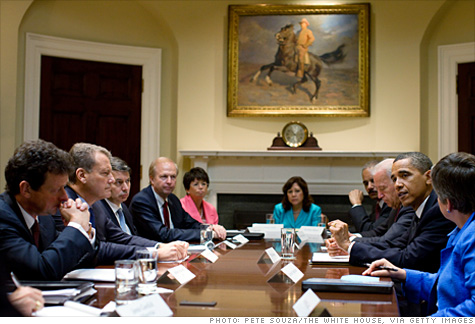 NEW YORK (CNNMoney.com) -- BP will put $20 billion into an independently managed account to cover economic damages related to the oil spill in the Gulf of Mexico, President Obama and company executives said Wednesday.
Obama announced the agreement after meeting with top BP executives at the White House to discuss the spill, which has become the worst environmental disaster in U.S. history.
Kenneth Feinberg, an attorney who served as special master of the 9/11 victims fund and advises Obama on Wall Street pay issues, will oversee the fund.
The creation of the fund does not mean BP's total payouts will be capped at $20 billion, officials said. Decisions about claims will be made initially by Feinberg. A three-judge panel will be available to consider appeals of Feinberg's decisions.
In addition, individuals, businesses or government entities unhappy with their payouts could pursue claims in court.
Obama said he is "absolutely confident" that BP will be able to meet its obligations and that the agreement "sets up a legal and financial framework for them to do it."
The fund, he said, "will provide substantial assurance that the claims people and businesses have will be honored."
BP promises to make good on its word: BP (BP) has said repeatedly that it plans to pay all costs related to the spill. But the company has been criticized for not moving fast enough to process claims of economic damage filed by Gulf businesses impacted by the disaster.
Carl-Henric Svanberg, the chairman of BP, said after meeting with Obama that the company will "live up to all our legitimate responsibilities," adding that the fund "should assure the American people that we mean what we say."
Svanberg also said Wednesday that BP had agreed to set aside $100 million to compensate oil workers idled by the government-imposed moratorium on deepwater drilling in the Gulf of Mexico.
Obama said BP faces "significant" liabilities. But he called the company "strong" and "viable," adding that nation has an interest in keeping it above water.
While the new framework is an important step in repairing the economic and environmental damage in the Gulf, Obama acknowledged that "we're not going to turn things around overnight."
BP on an installment plan: Under the terms of the agreement, BP will make installments of $5 billion a year for four years, including $5 billion in 2010, according to the White House. To assure that $20 billion will be available, BP will put up U.S. assets as insurance. As it adds cash to the fund, BP will be able to reduce the assets being held.
As of March, BP had about $7 billion in cash on hand, according to its quarterly financial statement. The company generates over $7 billion in cash each quarter, or about $30 billion per year.
In addition, analysts estimate that BP could comfortably borrow up to $17 billion on relatively short notice.
BP said last week that it has so far spent over $1 billion on containment, clean up and other costs related to the spill.
Analysts say it's too soon to say how much the spill could end up costing BP, but estimates have ranged between $11 billion and $60 billion on the low end, to upwards of $100 billion in the worst case.
Much depends on the amount of oil flowing from the well and whether BP is found guilty of gross negligence.
Reports from congressional committees and in the press have indicated BP chose cheaper, riskier drilling tactics in the lead-up to the disaster.
Meanwhile, government scientists on Tuesday increased their estimate of oil flowing into the Gulf by 50% to between 35,000 and 60,000 barrels per day. That translates into 1.5 million gallons to 2.5 million gallons per day.
Wednesday was the 58th day that oil has been spewing into the Gulf of Mexico.
Documents released by a Senate committee Wednesday show that BP has already given some money to the government for spill-related costs.
BP transferred about $71 million in two separate transactions last week to the Coast Guard for clean up costs, according to the documents.
-- CNN's John King, Suzanne Malveaux and Evan Glass and CNNMoney's Catherine Clifford contributed to this report.