BP's chief accused of 'stonewalling'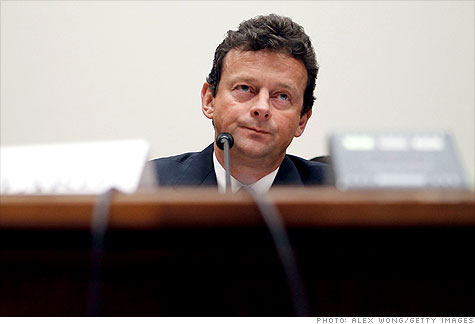 NEW YORK (CNNMoney.com) -- Lawmakers ripped into BP chief Tony Hayward on Thursday, accusing him of being ill-prepared for congressional testimony and not cooperating with an investigation into the Gulf of Mexico oil spill.
In Hayward's first congressional appearance since the April 20 disaster, lawmakers wanted to know if BP had cut corners in an effort to save money in the run up to the explosion.
Questions during the 7-1/2 hour hearing, which included two recesses, focused on the well's design and the measures taken while BP was attempting to seal it before it exploded.
"Did BP make a fundamental misjudgment" in using one long piece of well casing instead of many shorter pieces, as other oil companies said they would have done, asked Rep. Henry Waxman, D-Calif.
"I wasn't involved in that decision," replied Hayward, saying that the single piece was better for the well's long-term stability.
Waxman produced transcripts from BP's engineers saying that the single casing was "unlikely to be successful." Waxman said BP went ahead with it anyway to save $7 to $10 million.
Hayward said he was "not prepared to draw conclusions about this accident until the investigation is complete."
"This is an investigation," said Waxman. "Are you cooperating with other investigations? Because they're going to have a hard time reaching a conclusion if you stonewall them, which it appears you are doing today."
Rep. John Dingell, D-Mich., wanted to know how much it would have cost BP to perform additional tests on the cement in the well.
"I cannot say," said Hayward.
Dingell also wanted to know how much it would have cost to circulate a heavier drilling mud through the pipes, which may have prevented the explosion.
"I cannot say," replied Hayward, again.
"We thought we'd have more candid responses to our questions," said Rep. Bart Stupak, D-Mich. " You're the CEO, you headed exploration, you know what's going on."
Criticizing Hayward for his lack of answers became a theme of the meeting.
"Clearly Mr. Hayward is not prepared to answer the questions," said Rep. Joe Barton, R-Texas. "Any one of us could do a better job."
Apology flap
Barton may have been trying to deflect criticism after an earlier incident in which he called BP's agreement to set up a $20 billion fund for spill victims "a shakedown" by the Obama administration, and apologized to BP.
The comment drew immediate criticism, with Rep. Edward Markey saying the fund is "the American government working at its best," and both the White House and Speaker of the House Nancy Pelosi, D-Calif. issuing statements blasting Barton.
There were reports some Republican lawmakers from Gulf states were asking him to resign as ranking member of the committee, and Republican leaders issued a statement saying "Congressman Barton's statements this morning were wrong."
Barton later retracted his apology to BP and said he was sorry for using the term shakedown.
"BP is responsible for this accident, should be held responsible, and should in every way do everything possible to make good on the consequences," he said. "If anything I've said this morning has been misconstrued in an opposite effect, I want to apologize."
Hayward gets emotional
Tensions in the hearing were apparent before Hayward began testifying, when he was was interrupted by a woman shouting unintelligibly, her face and hands painted with oil.
After a brief struggle with police, she was removed from the room and arrested. U.S. Capitol Police say the woman was charged with unlawful conduct.
Hayward began his testimony by waiving his right to legal counsel.
He struck an emotional tone in his prepared remarks, acknowledging the loss of life and apologizing to residents of the Gulf Coast.
"When I learned that 11 men had lost their lives in the explosion and fire on the Deepwater Horizon, I was personally devastated," he said. "I want to offer my sincere condolences to their family and friends."
He went on to talk about the Gulf Coast economy and environment.
"I want to speak directly to the people who live and work in the Gulf region: I know that this incident has profoundly impacted lives and caused turmoil, and I deeply regret that," he said.
Hayward had been criticized previously for a sometimes callous approach to the disaster, especially the comment a few weeks back that he'd "like his life back" and that the "environmental impact of this disaster is likely to have been very, very modest."
In opening statements short on bluster and long on details, lawmakers outlined a series of steps BP took in the lead-up to the explosion that appeared to put cost above safety.
"Why would a team be sent home before performing a test?" on the well, asked Rep. Mike Doyle, D-Pa., referring to one of the decisions in question. "BP had several warnings, but instead of treating the well with caution, it seems BP was only interested was completing the well quickly and cheaply."
The well exploded 59 days ago, killing 11 workers. Millions of gallons of oil are still spewing into the Gulf, resulting in what some are calling the worst environmental disaster in American history.
According to congressional documents and interviews with workers on the rig when it exploded, it appears BP chose faster, cheaper techniques for drilling this well, sometimes against the advice of their sub-contractors.
Hayward said there was "no evidence of reckless behavior," contradicting President Obama, who referred to the company's "recklessness" during Tuesday night's address to the nation.
Hayward also said no BP employees have been laid off as a result of the accident, and that he did not believe cost cutting led to the explosion.
"If there's any evidence that anybody put costs above safety I will take action," he said.
"I can't believe you said that," retorted Waxman. "Of course there's evidence."
-- CNN staff contributed to this report