BP's delicate dance with the DOJ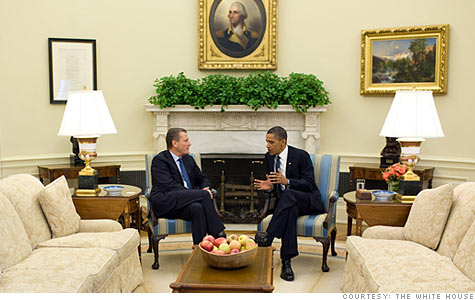 FORTUNE -- Call it corporate citizenship or corporate survival. If BP has figured anything out in dealing with the Gulf Coast oil spill, it's that practicing social responsibility and making nice with the U.S. government matters. A lot.
In recent weeks, executives of the London-based oil and gas producer have scrambled to smooth things over with the Obama administration, which had been criticized for not doing enough to deal with the environmental disaster that killed 11 workers and injured 17 following explosion of an oil rig. The president publicly chastised BP (BP) for spending outrageously on shareholder dividends and on advertising to save its image -- all while a steady gush of oil spills out into the Gulf.
The oil giant has had little choice but to bow to government pressures. After all, the company's fate is in its hands. Depending on the direction the government takes, BP could lose control of its U.S. oil and gas wells or be barred from doing future business with the federal government. Under a worst case scenario, the Justice Department could criminally charge the oil giant -- a move that would have lasting impacts, if it survived at all.
BP has ramped up efforts -- however reluctantly -- to appease U.S. officials amid the ongoing spill. For the first time since World War II, the company suspended quarterly payments to shareholders for the rest of 2010.
The immediate jump in BP shares last week following the announcement signaled a temporary sigh of relief among investors worried that cleanup costs and potential liabilities could jeopardize BP's finances. Nevertheless, the modest uptick gives a snapshot of just how crucial it is for the British company to play ally (as opposed to antagonist) with the U.S. government.
"If the market's perception is that the government and BP are feuding - that they cannot get along - then that is an enormous risk to the stock," says Pavel Molchanov, analyst with Raymond James & Associates. "BP looks like a good corporate citizen by agreeing to White House demands."
BP-U.S. connections
Though BP operates in more than 80 countries, it is heavily reliant on the U.S. About 40% of its assets are in the country. BP is the biggest energy provider to the U.S. military. It has six contracts with the Pentagon worth $2.1 billion combined.
Last week, President Obama called BP "strong and viable," recognizing that it was in the public's interest that the company remains that way. Certainly there's mutual interest in seeing BP press forward, but there's still the risk that a political backlash could limit the company from doing business in the U.S. and reduce its government contracts.
BP executives are working frantically to avoid a criminal indictment, a charge that could prove devastating for any company, says John Hueston, one of the lead prosecutors for the Enron Task Force. Besides the tens of billions in legal costs, an indictment can set off long-term ripple effects including everything from cutting lines of credit, to negotiating positions for government contracts, to recruiting top talent to facing increased scrutiny in compliance efforts.
"The company sinks in the eyes of the business world," says Hueston, a criminal defense attorney with Irell & Manella LLP.
Criminal charges against Arthur Andersen for its role in the Enron collapse brought down the Chicago-based accounting firm. In 2002, it voluntarily gave up its U.S. accounting licenses after being found guilty of charges related to its auditing of Enron. The Supreme Court subsequently overturned the verdict, but Arthur Andersen's reputation and credibility was so damaged that it couldn't survive.
Hueston adds that the Justice Department has generally shied away from criminally indicting public companies. Instead, it's more likely to pursue deferred prosecution agreements that call for remedies and compliance measures. Still, as federal investigations continue into the Gulf Coast spill, BP appears to be working with government officials to avoid any chances.
And then there are BP's government contracts. With criticisms weighing, the government could choose to make an example out of BP by suspending or barring the company from winning new government contracts, an order that could influence local and state governments. While officials generally don't take such actions, especially against companies that offer unique services generally difficult to find in the marketplace, governments can turn to companies other than BP.
Losing future contracts likely won't be detrimental for BP, but it surely isn't chump change. Between 2008 to 2010, the company held government contracts ranging from $837 million to $1.7 billion (mostly with the U.S. Department of Defense), according to government records.
"BP is trying to clean up the mess without actually cleaning up the mess," says Jessica Tillipman, assistant dean for outside placement and law professor at George Washington University Law School who teaches a course in government contracts. "I think they've made it very clear that they want to make the government very happy."
It's likely that BP will continue trying to clean up the mess in Washington, if it hasn't cleaned up the mess in the Gulf.