Wall Street wants to get bigger in China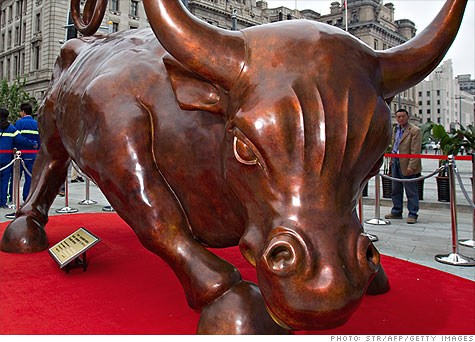 NEW YORK (CNNMoney.com) -- Where are the real opportunities for growth on Wall Street? Try China.
The biggest financial firms haven't tried to hide their ongoing ambitions to grow in the world's fastest-growing economy.
Earlier this month, JPMorgan Chase (JPM, Fortune 500) struck a joint venture deal with China's First Capital Securities to underwrite stocks of domestic firms. Rivals including Citigroup (C, Fortune 500) and Bank of America (BAC, Fortune 500) are also believed to be eyeing expansion plans within China.
While investors in the U.S. and Europe continue to grapple with sovereign debt fears and lackluster demand for new stocks and corporate bonds, market activity in China has been off the charts.
So far this year, Chinese firms have issued approximately $3.6 billion in high-yield bonds, according to research firm Dealogic, more than twice what they issued in all of 2009.
China has also single handedly helped prop up the IPO market. Of the $32.2 billion in new stock issued so far this year, more than a third came from firms based in China. Experts suggest many other Chinese companies are waiting in the wings for their own debut.
"There are many up-and-coming entrepreneurial firms that will be looking for capital at some point," said Carol Wingard, a vice-president at L.E.K. Consulting, who founded the firm's China practice.
Next month will likely represent another major milestone for China as one of its largest banks - Agricultural Bank of China - goes public. Reports suggest that the lender will list on exchanges in both Shanghai and Hong Kong, and raise as much as $20 billion. That would make it one of the biggest IPOs in history.
As a hive of investment banking activity for the foreseeable future, it's no surprise that Western financial institutions have been anxious to horn in on the action.
The relationship between China and foreign banks, particularly U.S. firms, has been a complicated one however.
Wall Street firms had to fight vigorously to establish their presence in China last decade, only to subsequently learn just how political it is to do business is in the world's fastest growing economy.
One of the biggest shocks came in 2006, when Goldman Sachs (GS, Fortune 500) was not chosen to be an underwriter for the public offering of Industrial & Commercial Bank of China.
Four years later though, there are still indications that China isn't completely opening itself up to foreign investment banks.
No foreign institution is involved with the public offering of Agricultural Bank of China. Goldman, Morgan Stanley (MS, Fortune 500) and Swiss banking giant UBS (UBS) are the only three non-Chinese banks ranked among the top 10 underwriters of stock and debt this year.
Daniel Rosen, the China practice leader for the advisory firm Rhodium Group, suggests that business and government leaders in China may have some doubts about the wisdom of U.S. and other foreign investment banks given the severity of the financial crisis and their involvement in it.
"I think the burden is now on major foreign players to answer the question: 'What are you bringing to China that we don't already have?'" said Rose, who also teaches at Columbia University's School of International and Public Affairs.
Several Wall Street firms contacted for this story did not return requests for comment. Those that did provided no details about their strategic growth plans in China.
Foreign banks haven't entirely lost their allure in China however. One thing they can still offer is access to foreign capital. Domestic players like Citic Securities, which has fashioned itself to be the Goldman Sachs of China, aren't quite there yet, experts said.
But Wall Street's interest in China doesn't start and end with bread-and-butter investment banking.
Morgan Stanley is also reportedly looking to grow its ranks of private bankers in the region over the next several years.
Citigroup also continues to expand its consumer banking business in China. In February, the New York City-based bank declared plans to open a branch in the city of Guiyang, its 10th in the country.
"China is critically important to Citi and our long-term growth ambitions, and remains one of Citi's priority markets around the world," said Citigroup CEO Vikram Pandit when announcing the Guiyang branch opening.