BP up over 20%: Has Hayward saved his job?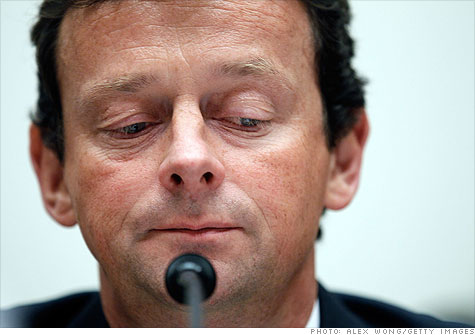 NEW YORK (CNNMoney.com) -- BP's stock has come roaring back in the past two weeks after hitting a 14-year low. But why? And is the nearly 25% surge enough to save embattled CEO Tony Hayward's job?
First, let's tackle why the stock is up so much. It's hard to know for certain whether the rebound in BP (BP) since it fell to an intra-day low of $26.75 on June 28 is a sign that the stock has really bottomed or just a brief pause before a death spiral resumes.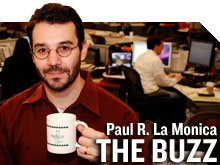 On the one hand, there has been some good news for the oil giant. According to several reports, Hayward has been talking to sovereign wealth funds, most notably in the Middle East, about getting a cash infusion.
BP has also said it does not plan to issue new stock, a move cheered by investors since that would only dilute the value of current shares even further.
The company has also reportedly indicated that it may cap the Deepwater Horizon well by the end of this month, a few weeks earlier than it originally hoped.
With that in mind, one bond fund manager that owns BP debt said that some of the worst fears may be behind BP.
"Bond investors won't be completely calm until they plug up the well but the North American assets are far greater than the estimated liabilities at this time. And they still have a ton of cash flow," said Julianne Bass, portfolio manager with the USAA Short-Term Bond fund in San Antonio.
But the stock's run may just be a relief rally based on the notion that bankruptcy is not imminent.
"I really don't think this is a stock for investors. It's a stock for traders," said Hank Smith, chief investment officer with Haverford Investments in Radnor, Pa. "It's going to bounce around. The news flow seems to have been a little better lately but you still can't guess what the liabilities are going to be."
For that reason, Smith said his firm sold its stake in BP shortly after the explosion that occurred on April 20. At the time, the stock was trading around $50. Even with its recent recovery, shares are still back to only about $33. And that's the approximate book value -- what the company's assets are worth minus its liabilities.
With BP trading right around book, that's a sign investors still think a lot can go wrong for BP -- especially when you consider that most of the reasons for the stock's pop are based on speculation. BP might raise more money from Abu Dhabi. BP might plug up the leak by July 27.
There's also been some takeover froth in the stock following an incredibly speculative report by J.P. Morgan analyst Fred Lucas last week. Lucas theorized that Exxon Mobil (XOM, Fortune 500) or Royal Dutch Shell (RDSA) could "in theory" bid for BP.
But Lucas wasn't making a bold call. He was merely trying to be provocative -- which isn't a criticism. The title of his note was "Fantasy M&A -- examining the options with BP." That means investors shouldn't buy into the notion that BP is a merger target.
And that brings us to Hayward. If he's presumably trying to convince existing investors to help out BP, his future probably depends more on whether those efforts are successful as opposed to coordinating the clean-up in the Gulf.
After his tone-deaf "I'd like my life back" comment and disastrous appearance before a House subcommittee last month, one public relations expert said it would be best for Hayward to remain behind the scenes.
"Hayward looked guilty in front of Congress. It's been misstep after misstep after misstep," said Richard Torrenzano, CEO of the Torrenzano Group, a New York firm specializing in crisis management for corporations.
Haverford's Smith said that if BP is able to finally end the leak soon and also get more support from big foreign investors, Hayward may be able to hang on to his job.
But Phil Weiss, a senior analyst who covers BP stock for Argus Research in New York, said the damage is done and Hayward's fate is sealed even if the stock continues to recover.
"Once the leak stops, the efforts to replace Hayward should intensify. There's no need to change horses while the leak is happening but I don't see how he survives," he said. "This is a man who took over from John Browne years ago with the mantra of improving safety. He's failed to deliver on that mandate."
For what it's worth, many traders seem to agree with Weiss.
Now that LeBron mania is finally over, speculation about Hayward's job status is the top listed event over at futures prediction exchange Intrade. It still looks like Hayward's a goner -- the Intrade market is predicting a 70.9% chance that he will depart as CEO before the end of 2010.
Reader comment of the week. I wrote on Thursday about how investors seem to think that the results of the European bank stress tests won't be too stressful -- kind of like what happened in the United States last year. One economist I quoted said, "The whole idea of stress tests is to restore confidence, or else why do it?"
One reader had this response. "Ummm, to find out the truth whatever it might be, good, bad, or ugly? If you've already decided what the outcome is going to be ahead of time, why do it? But hey, what do I know. I'm just a dumb, has-been engineer," wrote Richard Bartholomew.
It's a great point. Definitely disturbing that stress tests seem to be more about giving investors something to feel good about as opposed to determining just how bad the books of banks may really be.
- The opinions expressed in this commentary are solely those of Paul R. La Monica. Other than Time Warner, the parent of CNNMoney.com, La Monica does not own positions in any individual stocks.