How Toyota lost its way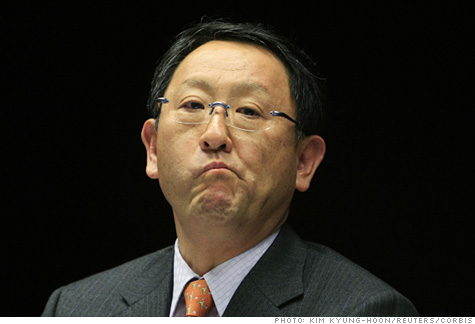 FORTUNE -- A principal ingredient in Toyota's success has been the job of the chief engineer, or shusa. Unlike a chief engineer at GM or Ford, whose role is essentially coordination, the Toyota shusa has complete responsibility for a vehicle, beginning with its conception and sometimes lasting through its entire sales life. Besides engineering decisions, the shusa is responsible for a program's business success. He defines a vehicle's intended market and is responsible for hitting targets of cost, weight, performance, and quality.
Within Toyota (TM), the shusas -- there are currently 38 -- are highly respected and are granted near-absolute authority. But they came under pressure during the term of Katsuaki Watanabe, the company's president from 2005 to 2009. Watanabe, to boost profitability, pressured the shusas to cut costs aggressively. This they did, even though many of the customers they served were thousands of miles away in foreign markets. When they cut too deeply, feedback was not quick to reach them. Admits one high-ranking Toyota executive: "Those engineers are placed in isolated circumstances in Toyota City. They are shielded from market information."
When Toyota customers began to raise questions about the quality of their vehicles, either because they performed unsafely or just looked cheap, Toyota brushed off the complaints and delayed finding solutions. Some current and former Toyota executives in the U.S. came to believe that the shusas were responsible for the company's defensiveness. They thought the shusas deflected questions about quality and were reluctant to take the problems to top management because they feared losing face.
The shusas are emblematic of the idiosyncratic management that served Toyota immensely well when it was trying to conquer the world with superior vehicles -- today Toyota ranks fifth on the Fortune Global 500, with revenues of $204.1 billion -- but that failed it spectacularly when the company was confronted with a storm of complaints about safety. As the company grew, its Japanese leaders never relinquished the iron grip they exercised over the company's operations all over the world and continued to make all important decisions in Japan. Instead of globalizing, Toyota colonized.
In the past 12 months Toyota has issued a dozen recalls covering defects from faulty accelerator pedals to rusted spare-tire carriers -- an extraordinary number for a company once renowned for the quality of its vehicles. In response, Toyota has appointed a chief quality officer, created an advisory panel on safety, and restructured its reporting system in the U.S. to communicate defect issues in a more timely manner. The changes seem mainly cosmetic. Toyota president Akio Toyoda -- grandson of the company's founder -- shows little inclination to alter the corporate structure that allowed the quality issues to fester.
Speaking with Fortune by telephone, Toyoda insisted that what the company needed was not a change in organization but a return to fundamentals. "We maybe slacked in some of our core principles [like] attention to the basics of manufacturing," he said. "It was as if we were engaged in car manufacturing in a virtual world and became insensitive to vehicle failings and defects in the market. Now we understand the gap between virtual world and real world, and we're working hard to fill those gaps. We want to pursue the basic performances in our cars -- run, turn, stop -- and secure the confidence of our customers."
Without deep changes, Toyota's U.S. operations will continue to be overseen by a giant Japanese bureaucracy that protects corporate fiefdoms in Toyota City. Toyota could find itself where General Motors was 30 years ago: with a seemingly dominant market position but an arrogant and inflexible culture that so weakens the company that it eventually collapses.
Read the full version of How Toyota lost its way