Goldman's next headache
NEW YORK (CNNMoney.com) -- The SEC is getting a pat on the back for earning a "victory" in the Goldman Sachs fraud case.
But based on how investors are reacting, it's painfully clear that the $550 million settlement payment by the Wall Street giant is hardly the equivalent of a pound of flesh for the Wall Street giant.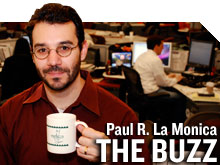 Shares of Goldman Sachs (GS, Fortune 500) surged 4% on Thursday, and another 2% Friday as Wall Street celebrates what appears to be the end of a three-month long legal and public relations nightmare for Goldman.
But what's next for the stock? Once the euphoria over the fact that the SEC isn't really making that much of an example of Goldman Sachs fades, it may be tough for shares to keep rallying.
The enthusiasm today is somewhat warranted. Goldman didn't admit any wrongdoing or make any management changes.

And while CEO Lloyd Blankfein doesn't have to fear further retribution, trader "Fabulous" Fabrice Tourre is getting thrown under the bus.
Many thought that Goldman might pay as much as $1 billion to settle charges stemming from how it marketed its Abacus collateralized debt obligation deal.
"I suspect that by the time all the civil litigation is done, the final settlement is going to be far more than $1 billion. It could wind up being a ten figure net hit to Goldman," said Barry Ritholtz, the CEO of Fusion IQ, a research firm based in New York.
In addition, Goldman reports its second quarter results next week. Analysts are forecasting a 34% decline in revenue and 58% plunge in earnings per share.
Goldman may very well beat estimates -- just like many of its peers did. Still, it's hard to imagine that Goldman will be able to report numbers that are that much better than forecasts since the second quarter was plagued by weak investment banking activity and insanely volatile trading.
Goldman, despite being chartered as a bank holding company, does very little business with average consumers and small businesses looking for loans. It's still primarily a blue-blood investment bank.
So Goldman won't benefit as much from the slightly better loan performance in consumer businesses like mortgage lending and credit cards as its rivals JPMorgan Chase (JPM, Fortune 500), Bank of America (BAC, Fortune 500) and Citigroup (C, Fortune 500) did in the second quarter.
And if market volatility continues, that could be further bad news for Goldman. It's not a stretch to expect more big twists and turns as fears of a double-dip recession in the United States grow and problems with European sovereign debt persist.
There's also the issue of regulatory reform, which will become the law of the land once President Obama signs the bill.
Although the Dodd-Frank Act has been neutered a bit and isn't as tough on Wall Street as some originally though it would be, there are some rules that will impact how banks trade derivatives and other securities. That should hurt profits a bit going forward.
Charles Whitehead, associate professor at the Cornell University School of Law, added that the terms of the SEC settlement could also have a lasting impact on the way that Goldman and the rest of Wall Street does business.
He argues that because of the increased regulatory scrutiny, not to mention the maelstrom of negative attention from the media and politicians, Wall Street traders may become "gun shy" when thinking about new financial products. The result could be less innovation, fewer risks and lower profits.
Finally, despite the fact that Goldman's stock is still trading nearly 20% lower than where it was the day before the SEC announced its fraud allegations in mid-April, Goldman doesn't necessarily look like a bargain.
Shares of Goldman trade at about 1.2 times book value, or what its assets are worth minus liabilities. With earnings for financial firms notoriously difficult to predict, analysts typically look to book value as a preferred method for valuing banks.
Goldman's price-to-book ratio is below its historical average. However, it's still trading at a higher valuation than Citi, Chase, BofA and fellow investment bank wolf in commercial bank sheep's clothing Morgan Stanley (MS, Fortune 500).
In the past, it made perfect sense for Goldman to warrant a premium to its rivals. But even though Goldman has avoided the worst-case scenario in its fight with Washington, I'm not sure that's the case anymore.
Reader comment of the week. Apple, which unlike Goldman Sachs is unaccustomed to bad press, has received a lot lately for the reception and signal problems facing its new iPhone 4. Death grip-Gate? Duct tape-Gate?
Part of the problem was that Apple reportedly first tried to blame consumers instead of owning up to a manufacturing defect. Neil Rhodes made light of that in reaction to Thursday's column about Apple's falling stock price.
"I've figured out why the price of AAPL has gone down. You're holding your stock wrong," he wrote.
Hilarious! Anyway, The Buzz is taking a "staycation" I'll return on July 26.
- The opinions expressed in this commentary are solely those of Paul R. La Monica. Other than Time Warner, the parent of CNNMoney.com, La Monica does not own positions in any individual stocks.