BP's disastrous, but profitable, quarter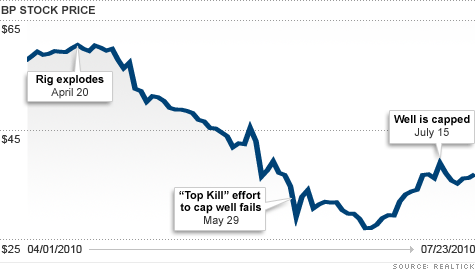 NEW YORK (CNNMoney.com) -- BP is set to report its second-quarter financial results on Tuesday, and by anyone's measure it's been a bruising period for the company.
The company's shares have lost nearly half their value since its Gulf well blew up April 20. BP has committed $20 billion to pay compensation to individuals and businesses hurt by the disaster. Bankruptcy, takeover, and jail time have all been discussed. Eleven people lost their lives.
And speculation is swirling about the fate of CEO Tony Hayward.
So just what will investors be looking for?
To start, the headline numbers will actually look pretty good.
Pavel Molchanov, an analyst at Raymond James, is expecting BP to post an after-spill profit of $1.26 a share, or nearly $4 billion. That's just slightly less than the $4.5 billion it made in the same quarter last year. BP spent $2.8 billion in the second quarter on the spill, said Molchanov.
Overall, analysts expect the company to announce that it made $1.39 a share, up 48% from 94 cents a share in the same period a year ago, according to Thompson Analytics.
The reason: Substantially higher oil and gasoline prices. Oil is up 50% from last year, and gas is up 34%.
Those forecasts do not include charges that BP took because of the Gulf spill. But those charges are not expected to cut too deeply into the company's earnings.
Apart from the bottom line numbers, what investors will really look for is strategic guidance going forward.
How long will Tony Hayward remain chief executive? Will the company sell more assets? And when might it reinstate the dividend?
Hayward: The CEO is widely expected to step down at some point. Reports surfaced Sunday that the company's board was negotiating with Hayward about his departure and that he could be out as early as Monday.
Hayward has been at BP for 28 years and took over as chief executive in 2007.
He handed over day-to-day management of the oil spill recovery to BP's executive director, Bob Dudley, after some high-profile gaffes. The most glaring was saying he "wanted his life back" as scrutiny over his leadership and his handling of the accident began to intensify.
Some expect that Dudley, an American, would take over as CEO if Hayward resigns.
The company has refused to confirm reports that Hayward is about to leave.
"Tony Hayward remains our chief executive and has the full support of the board and senior management," company spokesman Mark Salt told CNN.
Asset sales: BP has been scrambling to raise cash to both pay for the spill and ward off a potential takeover. It recently cut a deal with Apache Corp. to sell $7 billion in oil and gas properties. And reports indicate it has sought money from government investment funds in the Middle East.
Investors will want to know what's next. Other assets up for sale may include property in Vietnam, Pakistan or even Alaska.
The dividend: After much criticism, BP suspended its dividend in June for the first, second and third quarters of 2010, keeping the cash on hand to pay for the spill.
Last year, the company paid out roughly $10 billion to shareholders. The large dividend is one of the most attractive things about the stock, and investors will want to know when it may be reinstated.
They'll also be looking to see if its suspension -- worth roughly $2.5 billion a quarter -- will be enough to pay for the spill. So far it has, and under the payment plan BP struck with the government to fund the $20 billion compensation plan, it should be sufficient going forward.
But if executives hint at further costs going forward that might force the company to sell more assets or, worse, sacrifice future growth by cutting into the money it spends to find new oil sources, the stock could take a hit.