Stocks: Best monthly gain in a year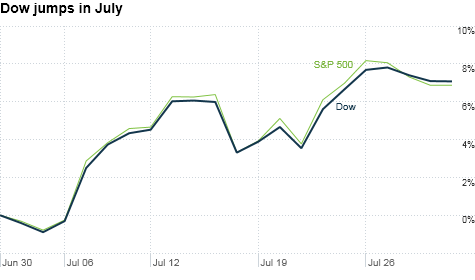 NEW YORK (CNNMoney.com) -- Despite a mixed performance on Friday, stocks booked the best monthly gain in a year, with the Dow Jones industrial average and S&P 500 both rising nearly 7% in July.
Stocks were supported this month by strong quarterly financial results from major U.S. companies. About 75% of the roughly 300 companies in the S&P 500 that have reported earnings so far have beat analysts' estimates.

But the earnings optimism has been tempered by ongoing concerns about the economy, particularly worries that tepid job growth will eventually undermine corporate profits.
"Even though earnings and guidance have been better than expected, there's still skepticism in the market because jobs have been missing in action," said Alec Young, an equity strategist at Standard & Poor's.
Friday's session was choppy, as investors weighed mixed reports on U.S. economic growth, consumer confidence and regional manufacturing activity.
The Dow Jones industrial average (INDU) fell 1 point, or less than 0.1%. The S&P 500 (SPX) index fell less than 1 point and the Nasdaq (COMP) composite gained 3 points, or 0.1%.
The rally this month came after stocks had drifted lower since April as investors grappled with concerns about the debt crisis in Europe and signs the recovery in the U.S. economy will be sluggish.
Stocks slipped Thursday as cautious comments from a regional Federal Reserve president about the health of the economy spooked investors.
Looking ahead, Young said the market could push higher late next week if the government's July employment report comes in better than expected on Friday. Economists believe the report will show employers cut 160,000 jobs in July after a loss of 125,000 the month before.
Economy: Gross domestic product, the broadest measure of the nation's economic activity, rose at a 2.4% annual rate in the second quarter, down from an upwardly revised 3.7% in the first quarter.
Economists surveyed by Briefing.com had expected GDP to show an annualized rate increase of 2.5%.
It was the fourth straight quarter of growth, and seemed to back some economists' views that the recession that began in December 2007 ended at some point in the middle of 2009. But the report indicated that consumer spending, which drives the bulk of U.S. economic activity, remained weak.
Separately, the Reuters-University of Michigan Consumer Sentiment index fell to 67.8 in July from 76 the month before. While the index reflected how nervous consumers were about the economy and job market, the decline was slightly smaller than expected. Economists had expected the index to fall to 67.5.
The Chicago PMI, a regional reading on manufacturing, rose more than expected in July. The index rose to 62.3 this month from 59.1 in June. Economists were expecting a reading of 56.3.
Earnings: Chevron (CVX, Fortune 500) posted second-quarter results that topped forecasts and said profit tripled in the quarter. Shares rose about 0.1%.
Merck (MRK, Fortune 500) reported earnings per share that beat analysts' expectations, even as net income fell 52% on acquisition costs. Sales growth, however, fell short of expectations. Shares fell 1.5%.
Companies: Walt Disney (DIS, Fortune 500) said early Friday it will sell Miramax Films for about $660 million to an investor group, Filmyard Holdings.
World markets: European stocks ended the day mixed. The CAC 40 in France fell 0.2%, while Germany's DAX gained 0.2%. The FTSE 100 in Britain fell more than 1%.
Asian markets finished lower. The Shanghai Composite fell 0.4% and the Hang Seng lost 0.3%, while the Nikkei in Japan tumbled 1.6%.
Currencies and commodities: The dollar was up versus the euro, but down against the British pound and the Japanese yen.
U.S. light crude oil for September delivery rose 59 cents to $78.95 a barrel.
COMEX gold's December contract gained $12.70 to $1,183.90 per ounce.
Bonds: Treasury prices rose, pushing the yield on the 10-year note down to 2.91% from 2.99% late Thursday. Bond prices and yields move in opposite directions.
How much of a hit did you take in the recent correction? Are you worried about a bear market? What changes have you made in your portfolio and what changes do you plan on making for the rest of the year? E-mail your story to realstories@cnnmoney.com and you could be featured in an upcoming article. For the CNNMoney.com Comment Policy, click here.