Today's Chevy: Un-Like a rock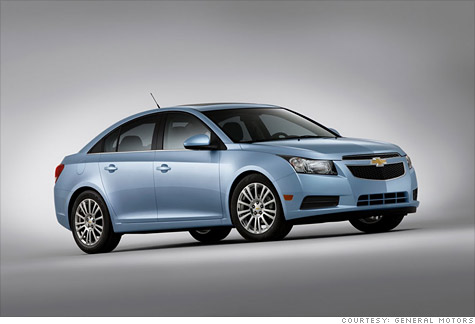 FORTUNE -- As General Motors gets ready to file for an initial public offering later this month, its largest division, Chevrolet, has been suffering through a period of unusual turbulence. (And that's not even counting the brouhaha that erupted when a memo surfaced telling staff to stop using the nickname "Chevy" in their communications.)
The changes come as Chevrolet gets ready to launch four new passenger cars in the next two years: three all-new nameplates, one of which, the Volt, is based on revolutionary and unproven technology.
The new models will shift the profit mix at Chevy, which has been generating more than half its sales from high-margin trucks, but it will align it more closely with rising fuel prices and strict government mileage standards.
That alone would be challenging enough, but top-level changes have upset the usual order of things at Chevrolet. Four different GM marketing directors have overseen advertising in the past year, and the Chevy account has bounced among three different agencies.
Meanwhile Campbell Ewald, which had handled the Chevy account for nearly 90 years, lost it in April and was replaced by Publicis Worldwide. In less than a month, Publicis was gone, and was succeeded by Goodby Silverstein.
The agency shifts could slow Chevy's progress towards its goal of passing Ford to once again become the largest selling car brand in America. After the first six months of 2010, Ford led with sales of 858,454 cars and trucks to Chevy's 781,006. A little further back in third place was Toyota with 718,105.
"We want to get back to industry leadership," says Chevy marketing boss Jim Campbell. But, he adds, "It is going to take time."
From icons to unproven names
It's easy to forget how important Chevy is to General Motors. So far in 2010, it has accounted for more than 70% of GM's sales, and the Chevy brand now appears on vehicles sold all over the world.
But Chevy's best-known models -- the Silverado, Suburban, Camaro and Corvette -- are so iconic that, like Oprah and Madonna, they are usually referred to by a single name.
Chevy's marketing challenges begin this fall when it introduces consumers to the new Cruze compact car. Not only is the name new, but Chevy must also make a compelling argument that it is better than the unloved Cobalt, which it replaces, and much better than the Cobalt's predecessor, Cavalier.
Expect GM to sell the Cruze aggressively at first, aiming low introductory lease rates at owners of segment-leading Honda Civics and Toyota Corollas. Surprisingly, about one-quarter of compact car customers choose to lease rather than buy.
Campbell says Cruze ads will stress the theme of "More than you expect" for the car, which comes with ten airbags and OnStar telematics as standard equipment.
After Cruze comes Chevy's biggest challenge: the extended-range, battery-powered Volt. With a base price of $41,000, it will be the most expensive sedan in Chevy's showroom and will be sold in very low quantities at first.
Chevy will try to appeal to three different kinds of potential Volt customers: the economy-minded, who are attracted by the high mileage; the environmentally-conscious, who like the idea of producing low emissions; and technophiles, who dig the gadgetry.
For the 2012 model year, Chevy is launching two small cars. One is a replacement for the Korean-built subcompact Aveo. The other is even smaller -- a minicar called the Spark. It may be the smallest vehicle that GM has ever sold in the U.S.
Asked what all these new additions to Chevy's lineup will mean to its identity, Campbell said he hopes it will remain unchanged. The brand's values, he says, remain the same: authentic, approachable, capable, and economical.
Chevy's new ad agency hasn't come up with a new theme or advertising tagline yet. Previous campaigns have set some pretty high hurdles from "See the U.S.A. in your Chevrolet" to "Like a rock. "
Too bad "It's the real thing" has been taken.