Stocks end lower as jobs report looms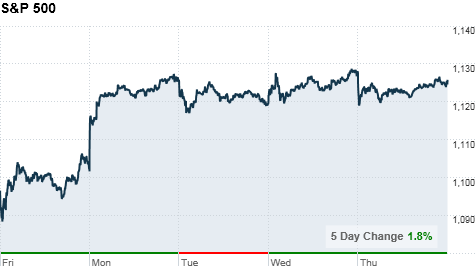 NEW YORK (CNNMoney.com) -- Stocks ended a listless session modestly lower Thursday as investors focused on the job market amid signs of a sluggish economic recovery.
The Dow Jones industrial average (INDU) fell 5 points, or less than 0.1%. The S&P 500 (SPX) index slid 1.5 points, or 0.1%, and the Nasdaq (COMP) composite lost 10 points, or 0.5%.
The retreat came as investors braced for the Labor Department's monthly jobs report Friday. The report, one of the most closely watched on Wall Street, is expected to show that the U.S. economy lost jobs in July for the second month in a row.
"We've got a market that seems to be waiting on pins and needles ahead of the all-important payrolls report," said Art Hogan, chief market analyst at Jefferies & Co.
Wall Street has been focused on the job market for signs that the economic recovery, which appears to be losing steam, can be sustained. Consumer spending, the main driver of U.S. economic activity, is closely linked to employment.
"Investors are waiting to see if the economy has hit a soft patch, or taken a right-hand turn," Hogan said. "Unfortunately, we need more data before we can determine that."
Reports on the job market this week have been mixed. The government said Thursday that the number of Americans filing first-time claims for unemployment insurance rose last week to a three-month high. But a payroll processing firm said Wednesday that private sector rolls grew more than expected last month.
Also weighing on stocks, the nation's top retailers reported July sales growth that largely missed analysts' expectations, though certain pockets remained strong.
Guarded optimism about the job market helped support stocks Wednesday, but gains were slight. The Dow added 0.4% and the broader S&P 500 increased 0.6%.
The choppy action this week came after the market rallied 7% in July, marking the best month in a year for stocks. Better-than-expected corporate earnings helped support the market as concerns about the debt crisis in Europe eased last month.
"We had a great earnings season, now reality is setting back in," said Dave Rovelli, managing director of U.S. equities at Canaccord Adams.
Jobs: The number of Americans filing for initial unemployment claims climbed 19,000 to 479,000 in latest week. It marked the highest figure in three months and compared with an upwardly revised 460,000 the previous week, the Labor Department said.
Economists surveyed by Briefing.com had expected 455,000 Americans to have filed for first-time jobless claims last week.
On Friday, the Labor Department is expected to report that the economy lost 87,000 jobs in July, according to a consensus of economists surveyed by Briefing.com. The unemployment rate is forecast to rise to 9.6% from 9.5%.
In June, payrolls declined for the first time this year, with the economy suffering a net loss of 125,000 jobs. The drop was primarily due to the end of 225,000 temporary Census jobs that had swelled payrolls in May.
Before that, payrolls had been growing modestly since January as the economy gradually recovered from the depths of the recession. But the recent declines have raised questions about the pace of the recovery and stoked fears that the economy could slip back into recession.
Still, private sector employment has expanded for the last six months and job growth is typically sluggish following a recession, notes John Challenger, chief executive officer of global outplacement firm Challenger, Gray & Christmas.
"The job numbers may be weaker than some are expecting," he said. "However, dips in the job numbers and other indicators do not necessarily mean an early sequel to the recession."
Retail sales: The nation's top retailers reported mixed sales for July as the back-to-school shopping season got off to a sluggish start.
Sales tracker Thomson Reuters, which looks at monthly same-store sales for 28 chains, said that July sales were up 2.9%, just below the 3.1% growth expected by analysts. Same-store sales are a key gauge of a retailer's performance at stores open at least a year.
Target (TGT, Fortune 500) said sales rose 3.8% last month, driven by apparel purchases, while electronics and other discretionary items remained soft. Shares were up more than 2%.
Wholesale discounter Costco (COST, Fortune 500) reported a 6% increase in sales, slightly higher than the 5.5% that had been expected. Excluding the impact of higher gas prices and favorable foreign exchange rates, however, sales rose 4% in the month. Shares fell 1.7%.
Teen stores The Buckle (BKE) and Hot Topic (HOTT) were two of the worst performers, reporting deep declines in sales for the month of around 9%, But two other teen apparel chains - Zumiez (ZUMZ) and Abercrombie & Fitch (ANF) - surprised analysts with much stronger-than-expected sales.
World markets: European markets ended mixed. Britain's FTSE 100 fell 0.4%. Germany's DAX and France's CAC 40 were little changed.
The European Central Bank voted to hold its benchmark interest rate steady at 0.1%, as expected. In a statement, ECB President Jean-Claude Trichet said the EU economy strengthened in the second quarter and that activity in the current quarter has been better than expected. Looking ahead, he said growth is expected to be "moderate" and "uneven."
Separately, the ECB, European Council and International Monetary Fund said in a statement that efforts to stabilize the shaky Greek economy are off to a good start, though challenges remain.
Greece is undergoing a painful restructuring of its economy with the help of an €80 billion loan from euro area nations and a €30 billion facility from the IMF. The debt-ridden nation is expected to receive additional loans later this month.
In Asia, Japan's Nikkei rallied, climbing 1.7%. The Shanghai Composite fell 0.7% and the Hang Seng in Hong Kong finished little changed.
Currencies and commodities: The dollar gained against the euro and the British pound, but fell versus the Japanese yen.
U.S. light crude oil for September delivery fell 46 cents to $82.01 a barrel.
COMEX gold's December contract rose $3.40 to $1,199.30 per ounce.
Bonds: Treasury prices climbed Thursday, with the yield on the 10-year note falling to 2.92% from 2.95% late Wednesday. Bond prices and yields move in opposite directions.