Hurd mentality: Is HP no longer a buy?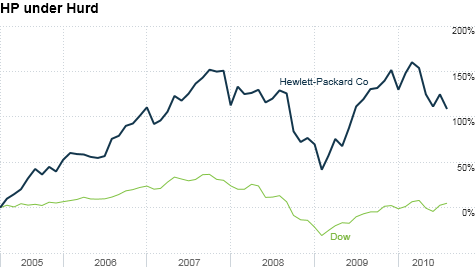 NEW YORK (CNNMoney.com) -- Mark Hurd made Hewlett-Packard boring. And investors loved him for it.
But now that Hurd has left HP for the most non-boring of reasons -- the discovery of fudged expense reports following a sexual harassment claim by Jodie Fisher, an "actress" whose resume wouldn't even put her on Hollywood's D-list -- is the tech giant's stock still worth buying?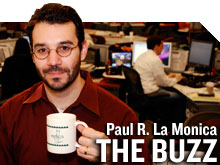 Investors are clearly nervous. Shares of HP plunged 7% on Monday despite the fact that the company also issued bullish guidance Friday after the bell. Of course, nobody cared because that's when HP also announced the Hurd mess.
You can understand why shareholders aren't happy. Since Hurd took over as the CEO of HP (HPQ, Fortune 500) from Carly Fiorina in April 2005, the stock has more than doubled.
Hurd, who came to HP from ATM maker NCR (NCR, Fortune 500) as the anti-Carly, i.e. a CEO who cared more about crunching numbers than playing for the cameras, quickly cut expenses, announced big layoffs and restructured the company to boost profit margins.
Investors were looking for someone to focus more on the less-exciting meat and potatoes of HP's business after its merger with Compaq, which Fiorina championed in 2001, hit a major snag.
Michael Cuggino, manager of the Permanent Portfolio and Permanent Aggressive Growth Portfolio funds, said he hoped the company will continue to follow the same strategy set by Hurd, but added that it's fair to be worried about where HP goes from here.
"There is a tone at the top that was set by Hurd and I think that driving force was a large part of the success over the past five years," said Cuggino, who owns HP in both funds he runs. "My hope is there's a team he's trained underneath him to continue that, but owners of the stock are facing a period of uncertainty."
But another fund manager that owns a position in HP wasn't worried and said that the sell-off on Monday was an overreaction.
John Snyder, manager of the John Hancock Sovereign Investors fund, pointed out that the company's fundamentals are extremely strong and that the stock, trading at just 9 times earnings estimates for next year, is a bargain.
"Everyone is shocked by the news but this doesn't change my opinion on HP," he said. "There may be short-term concerns about a successor but I would be a buyer, not a seller."
Still, it might be fair to wonder just what HP will do to keep growing now that Hurd has gotten the ax. For all the talk about how he was a numbers guru, there was more to him than just a relentless focus on cutting costs.
Under Hurd, HP made several sizeable acquisitions to push the company further away from its core printing and PC businesses. It's now the world's largest tech company by revenue and a serious competitor to IBM (IBM, Fortune 500), as opposed to just Dell (DELL, Fortune 500) and Lexmark (LXK).
Most notably, HP acquired software firms Mercury Interactive and Opsware, consulting powerhouse EDS, networking firm 3Com and, most recently, struggling smartphone maker Palm.
Who will take over at HP?
So will HP stop shopping until the company can sort out who will take over permanently for Hurd? Chief financial officer Cathie Lesjak is assuming the top spot only on an interim basis while a search commences.
HP may not be able to afford a lengthy search for a new leader. In the rapidly changing tech landscape, companies are often punished for moving slowly. And HP's bold purchase of Palm proves that the company is no longer content focusing on big business. It's taking aim at Apple (AAPL, Fortune 500) and Google (GOOG, Fortune 500) in the consumer mobile device market.
"The business is strong but there are now concerns about whether growth can continue," Cuggino said.
Some investors may also start to have doubts about whether business at HP with Hurd at the helm was as strong as it appeared.
Let's call a spade a spade here. Hurd is gone because HP's board said that he was lying about an expense report. So is it that crazy to ponder if there was more fudging of numbers going on at HP during the past five years?
Don't get me wrong, it does not seem like HP is the next Enron, WorldCom or Tyco. But the lapse in judgment by Hurd may give HP skeptics more reason to question the company, which could serve as an overhang on the stock.
Snyder conceded as such but said this shouldn't be a reason to sell HP.
"If you are a HP bear, you're going to look for an excuse but I think that it's a stretch to say there's something wrong with their numbers because of this," he said.
Cuggino agreed and pointed out that for now it looks as if Hurd's transgressions were more of a personal issue. But he understands why investors might be worried that there could be worse news.
"There are now questions on the stock that we didn't have at lunchtime on Friday. It's disappointing," he said.
- The opinions expressed in this commentary are solely those of Paul R. La Monica. Other than Time Warner, the parent of CNNMoney.com, La Monica does not own positions in any individual stocks.