Stocks recoup losses after Fed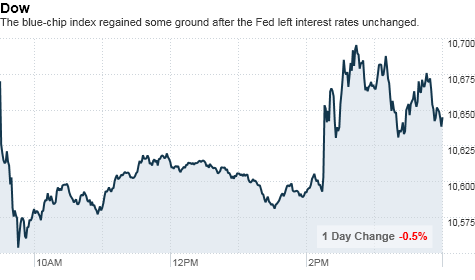 NEW YORK (CNNMoney.com) -- Stocks pared sharp losses to close only modestly lower Tuesday after the Federal Reserve took a cautious stance about the recovery.
After falling as much as 147 points earlier in the session, the Dow Jones industrial average (INDU) was off 53 points, or 0.5%, to close at 10,644.86, according to early tallies.
The S&P 500 (SPX) lost 7 points, or 0.6%, to end at 1,121.08, and the Nasdaq (COMP) dropped 29 points, or 1.2%, to close at 2,277.17.
As was widely expected, the central bank said it would leave short-term interest rates unchanged in a range between 0% and 0.25%. But the Fed gave its most bearish outlook in more than a year, saying the economic recovery is weakening.
The Fed also said it plans to reinvest its debt into longer-term Treasury securities. Economists had been anticipating the Fed would start unwinding its purchases by the end of this year.
"Investors had been concerned the Fed would do nothing, or it would name deflation as a risk," said Burt White, chief investment officer for LPL Financial.
"But actions speak louder than words," White added. "The fact that the Fed will maintain the same level of debt on its balance sheet shows it has some deflation concerns, even though they didn't mention the D-word."
Though the repurchase of Treasurys is serving as a "backstop," White said, "everyone is wondering when we won't need the Fed anymore."
Tech downgrades: The session's earlier losses were led by tech shares after the sector suffered two downgrades of big chipmakers.
Analysts at Robert W. Baird downgraded tech giant Intel's (INTC, Fortune 500) shares to "neutral" from "outperform." The research firm cited concerns about the overall tech sector, noting a "sharp deterioration in PC-related order trends over the past week, following a below-expectation July."
JPMorgan (JPM, Fortune 500) analysts echoed this statement, saying in their own report that personal computer orders were "falling off a cliff." JPMorgan lowered its outlook on Intel but kept its rating at "neutral."
Intel shares closed 4% lower.
Advanced Micro Devices (AMD, Fortune 500) also felt the crunch, after Barclays downgraded shares of the semiconductor maker to "equal weight" from "overweight." AMD shares plummeted to close 8% lower.
Economy: A report said business productivity unexpectedly fell by 0.9% in the second quarter, marking the first decline in 18 months. Economists expected an increase of 0.1%, according to Briefing.com.
A separate report showed wholesale inventories fell 0.7% in June. Economists expected an increase of 0.4% during the month, following a 0.5% hike in May.
Companies: BP (BP) said late Monday that it had made a $3 billion deposit into the $20 billion escrow account, from which the oil giant will pay for claims to those who suffered from the effects of the Gulf Coast oil spill. Shares of BP were down 1.8% to end the day.
After the bell, Walt Disney Co. (DIS, Fortune 500) reported fiscal third-quarter earnings that beat Wall Street expectations, led by rebounding sales at its television networks and movie studio divisions.
Disney said quarterly net income rose to $1.3 billion, or 67 cents per share, up 40% from a year earlier. Analysts polled by Thompson Reuters expected only 58 cents per share. Disney shares were up 1.5% in after-hours trade.
World markets: European markets closed lower. Britain's FTSE 100 fell 0.6%, while France's CAC 40 dropped 1.2% and Germany's DAX posted a decline of 1%.
In Asia, Chinese shares led declines, following a report that showed Chinese imports slowed in July, increasing only 22.7% from a year earlier, compared to a 34.1% year-over-year jump the prior month.
The Shanghai Composite finished the session down 2.9%. The Hang Seng in Hong Kong lost 1.5% and Japan's Nikkei slipped 0.2%.
Currencies and commodities: The dollar gained against the euro and U.K. pound, but was flat versus the Japanese yen.
Oil futures for September delivery fell $1.23 to settle at $80.25 a barrel.
Bonds: The yield on the 30-year bond fell below 4% and the yield on the 10-year note dropped to 2.77%.