HP scandal: Finally some good news for Dell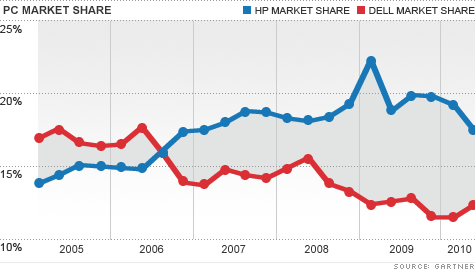 NEW YORK (CNNMoney.com) -- If there's one person who's glad to see Hewlett-Packard CEO Mark Hurd go, it's Michael Dell. Since Hurd took over HP in April 2005, it's been a vastly different story for the two tech giants.
Dell's past five years have been plagued by legal woes, complaints about poor customer service and a lack of preparation for the new competitive landscape. Shares of Dell (DELL, Fortune 500) are trading at just $13, a third of the $38 price they traded at the day Hurd took HP's reins.
Meanwhile, HP (HPQ, Fortune 500) not only jumped ahead of Dell in the personal computer market, it also is now the largest tech company by total revenue. Its stock more than doubled during Hurd's tenure.
But now that Hurd is gone, can Dell capitalize on the fact that its key competitor is in turmoil? Not so fast. Mark Margevicius, an analyst at tech research firm Gartner, said Dell has to "fix its own business first."
Dell has a lot of work to do. Dell came in dead last in consumers' rankings of computer manufacturers early this year, according to Forrester Research.
It's not just customer service in which HP has bested Dell: Margevicius said HP has surpassed its rival in managing its supply chain, improving its network of vendors, and offering a more diversified portfolio of PCs.
That last point is perhaps the most crucial. If there was one thing that really got Dell into trouble over the past several years, it was the company's inability to capitalize on soaring consumer demand for laptops and netbooks.
Dell's business is heavily reliant on corporations buying desktop PCs, but the deadly combination of Microsoft's (MSFT, Fortune 500) Windows Vista debacle and the recession slowed those enterprise sales to a crawl. Unlike Dell, HP offered a wide array of consumer PCs and customers could go to any computer retailer to pick one up.
But that trend appears to be shifting: An improving economic climate and positive reviews of Windows 7 have led many corporations to start replacing their old PCs.
That shift should ultimately benefit Dell and may hurt HP. In fact, the PC market share gap between Dell and HP has already narrowed over the past several quarters.
Kevin Hunt, an analyst who covers Dell stock for Hapoalim Securities, pointed out that there was little Hurd could have done to reverse that trend if he stayed, but added that Dell may be able to grab more share due to the turmoil at HP.
That could help lift sales, profits and Dell's lagging share price.
"Certainly from a stock perspective, Dell looks much more interesting than HP now that Hurd's gone," Hunt said.
Still, others caution investors not to exaggerate the impact of Hurd's departure or to underestimate the abilities of the strong supporting staff at HP.
Todd Bradley, who has been the head of the PC division at HP for the past three years, has quickly emerged as one of the leading candidates to replace Hurd.
HP has sold 52 million more PCs than Dell during Bradley's tenure, according to Gartner. So Dell can't be too happy to hear Bradley's named mentioned as a possible replacement.
"I don't see much upside for Dell because of this," said Michael Holt, an analyst at Morningstar. "People are concerned about HP's server and services businesses, but with the PC business, HP still has a strong leader in Todd Bradley."