JetBlue, the comeback kid of the skies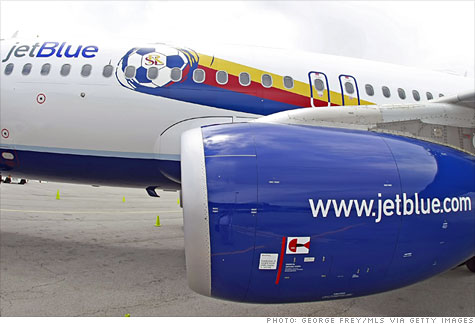 FORTUNE -- As rogue JetBlue airline attendant Steven Slater hits the talk shows this week to discuss his freakout on Monday, it's quite clear that he has the sympathy of the man on the street. All of us have wanted to quit a job with a flourish -- grabbing two beers and hopping on an inflatable slide will be hard to beat -- and all the ninnies talking about his putting potential ground crews in danger by inflating the slide will soon find something else to get all puritanical about.
In all the hoopla over Slater's Howard Beale moment, though, it seems one question hasn't been asked: Does JetBlue consider this a terrible public relations moment or -- and stay with me for a minute -- a positive one? While it may strike many as absurd, I would suggest that this event will ultimately prove to be nothing but positive PR for the New York-based carrier.
It just goes to show that JetBlue (JBLU) continues its idiosyncratic journey as an industry disturbance. Southwest (LUV, Fortune 500) hires people who can't decide if they want to be a stand-up comic or a flight attendant. JetBlue, it has always seemed, has hired people who want to work for a different kind of company. Slater, the poor guy, thought that passengers would decide to act differently as well. You can't fault the man for being an idealist.
It was less than a decade ago, you will recall, that JetBlue was considered one of the most revolutionary companies in the country. The airline made Vanity Fair's Hot List, for God's sake. Think about that. An airline. We all marveled over the simple ticket pricing, the free satellite television, the blue chips, and the remarkably happy attitude of the airline's staff, from ticket agents to flight attendants.
Then came skyrocketing oil prices. JetBlue had managed to control pretty much every variable in running a successful airline -- pricing, costs, attitude -- except the most important one, which was the possibility that oil prices could hit $100 a barrel. And time started to catch up with JetBlue: maintenance costs on once-new planes started rising and its larger rivals finally cottoned to its pricing strategy, with Delta (DAL, Fortune 500) in particular engaging in a number of fierce to-the-death pricing battles with the company. Founder and spiritual core David Neeleman ultimately lost his job after a few years of challenging financial results.
For a minute there, it seemed like JetBlue might actually be destined for the ever-larger scrapheap of failed airlines. The stock has been on a long journey down from a high of $30 in 2003 to $18 or so in late 2006 to just over $6 today.
New beginnings
Things are turning around, though. Slater's outburst aside, JetBlue still outranks the competition in terms of customer satisfaction. Just ask the folks at J.D. Power. It won accolades for the way it handled its worst PR disaster to date -- leaving passengers stuck on a tarmac for eight hours in 2007. For New Yorkers, there's hardly a better way to get to Los Angeles than JFK-Burbank on JetBlue. In addition to its dominance at JFK, JetBlue also offers the most flights out of Boston, and is inarguably the best way to take a quick trip down the coast to Florida or the Caribbean.
So what of their financials? James Higgins of Soleil Securities is remarkably positive. "JetBlue enjoys one of the industry's most favorable risk profiles, with unrestricted liquidity currently at 29% of trailing four quarter revenues, strong labor/management relations in a non-unionized environment, relatively (for a US airline) low leverage and a solid fuel hedging portfolio," he wrote in late July.
It's not a stock for the faint of heart. Its volatility, as measured by beta, is twice the market's, and the company's debt rating is below investment grade. Another huge spike in oil prices, and the airline will once again be on the ropes. Still, Lufthansa saw enough of a future to partner with JetBlue in 2008, when the European airline picked up 17% of JetBlue's equity.
The company is on track to pull in nearly $4 billion in revenues in 2010, margins are improving, and Neeleman's successor Dave Barger seems to be a steady hand at the controls. Analysts at the likes of Citi, Deustche Bank, and Bank of America Merrill Lynch all think the stock is a buy at these levels.
Steven Slater may have decided that he's done with JetBlue, but passengers and investors seem to be hanging around.