Why does everyone hate Microsoft?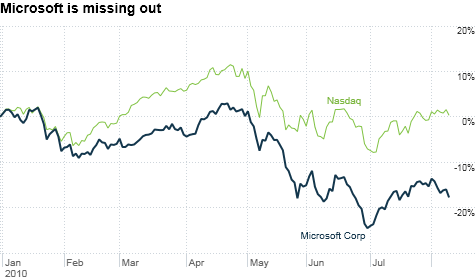 NEW YORK (CNNMoney.com) -- Why don't investors love Microsoft?
Shares of of the software giant are down 19% so far in 2010, which is considerably worse than the performance of the tech sector as a whole. Of its main rivals, only Hewlett-Packard (HPQ, Fortune 500) and Google (GOOG, Fortune 500) have fared worse -- and about half of HP's drop happened following the Mark Hurd scandal.
"Plain and simple, Microsoft (MSFT, Fortune 500) is all about PCs," said Yun Kim, analyst at Gleacher & Co. "The reason why the stock hasn't performed well is the expectation that PC sales will slow, and investors are not comfortable with Microsoft's strategy for the post-PC environment."
But despite all that, there are some very good reasons to like the beaten-down stock: PC sales are better than they seem, the iPad's impact isn't as damaging as it looks, and Microsoft's shares are dirt-cheap.
The biggest thing Microsoft has going for it right now is a looming corporate refresh of PCs, and by all accounts, it's going to be enormous. A combination of the reviled Windows Vista and the economic recession led many corporate IT departments to max out the life span of their computers. Now, with positive reviews of Windows 7 coming in and a somewhat improved economic climate, analysts expect businesses to buy new PCs in the coming four to six quarters.
That means loads of Windows 7 and Office 2010 licenses for Microsoft to sell, and Windows and Office make up roughly two-thirds of Microsoft's revenue and profits. What's more, not all Windows licenses are created equally: Microsoft offers corporate licenses at, on average, twice the price of the consumer ones.
"Though the consumer PC market growth is decelerating, that will be more than offset by the growth on the corporate side," said Kim. "That makes Microsoft a well-positioned company and a good stock to hold in this environment with so much uncertainty out there."
Microsoft is clearly behind the curve with tablets and mobile phones, but analysts say that shouldn't impact the stock too much. A recent Gartner report on netbook sales showed that the success of the iPad is weighing on consumers' purchases of mini-notebook computers.
If Microsoft fails on its promise to come to market with a viable Windows 7 tablet competitor, the iPad effect could further wear away at netbooks, which had been the fastest growing segment of the computer market and a strong source of Windows revenue.
But based on the number of Apple's (AAPL, Fortune 500) iPads sold so far, tech stock analysis firm Trefis forecast the damage would be minimal, knocking just 2% off of Microsoft's stock price. Kim said the impact would amount to "a rounding error." And Gregg Moskowitz, analyst at Cowen & Co, said the worst case scenario is a three- to four-cent hit to Microsoft's full-year earnings per share number.
"We're very confident in saying the iPad effect on Microsoft will be muted," he said.
Microsoft's stock is also insanely inexpensive. It's selling at a price-to-earnings multiple of just over 10. By comparison, the S&P 500 has a P/E ratio of 14. For a company that just reported record quarterly sales and is so cheaply priced, analysts say now might be a good time for investors to jump on board.
"The stock is clearly very cheap any way you slice it, particularly when the expectation is that the company will grow by double digits on the top and bottom lines next year," said Moskowitz. "We've gotten to the point where the pendulum has swung overly negatively."
So is Microsoft a good buy? It all depends on how long investors are looking to hold the stock. In the near-term, things are definitely looking up for the company. But if everything plays out in the next three to five years as tech analysts expect, and PC sales start to sink, with tablets and mobile phones rising sharply to replace them, Microsoft will have to prove its worth.
"Our confidence in Microsoft lasts for the next 12 to 24 months," said Moskowitz. "When you start to look out into the three- to five-year period, given the sheer amount of change and uncertainty across the tech sector, it's difficult to recommend a pure buy and hold position with this company."