GM getting a new CEO - again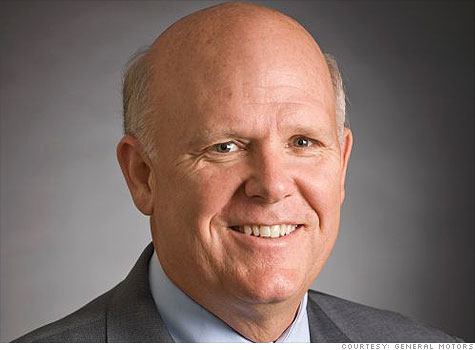 NEW YORK (CNNMoney.com) -- General Motors is getting its fourth CEO in just under 18 months, as the company announced that Ed Whitacre will leave the post Sept. 1, to be succeeded by another auto industry outsider, former Nextel Communications CEO Dan Akerson.
The move comes on the same day the automaker reported its best quarterly profit in six years, and with a filing expected within days to detail plans to bring the company public again.
"This seems to be about the IPO. GM wants the issue of succession planning off the table," said Jeremy Anwyl, the head of Edmunds.com.
Whitacre, 68, will remain as chairman of GM until the end of the year, at which time Akerson will assume that title as well. He has held the top job only since the GM board asked for the resignation of then-CEO Fritz Henderson on Dec. 1.
Whitacre said he had always planned to give up the top job at GM as soon as possible, and that he's confident in the choice of Akerson.
"It was my duty to help restore the company to greatness and I didn't want to stay a day beyond that," said Whitacre. "Dan and I have been close for a number of months. He's been on the board. He's been very involved. I think this will be a very smooth transition."
Akerson, 61, who has been on the GM board for just over a year, is now managing director and head of global buyout for private equity firm Carlyle Group. He has been CEO of three other companies, although none in the auto industry.
He served as CEO and chairman of Nextel from 1996 to 1999, and stayed on as non-executive chairman until 2001. In 1999 he became chairman and CEO of XO Communications, helping to restructure that specialty communications company. He had previously served as chairman and CEO of General Instrument Co.
Whitacre has made widespread changes in GM senior management since taking office, and Akerson told reporters he didn't anticipate making significant additional changes going forward.
"At this stage the biggest management transition is me," he said.
The U.S. Treasury Department, which owns 61% of GM's common shares that it received in return for the taxpayer bailout of the company last year, issued a statement saying the decision was made by GM's board and did not require Treasury's approval. It praised both men, though.
"We are very grateful to Ed Whitacre, whose invaluable leadership and vision have helped position General Motors for a successful return to long-term viability and helped protect the taxpayers' considerable investment in the company," it said. "Dan Akerson is proven and well-respected with a depth of experience as a CEO in a wide range of major companies."
Just a week ago Whitacre told reporters that he would like the Treasury Department to sell its entire 61% stake in GM at the time of its initial public offering later this year. He said the company was being hurt by the stigma of being known as "Government Motors."
But despite the Obama administration's stated desire to try to sell its stake in GM as soon as possible, virtually no one expects Treasury to sell its entire stake at the outset for fears that flooding the market with that many shares would drive down the price.
Before Whitacre assumed the top job, GM was known as a behemoth that experienced management change at a near glacial pace.
Henderson, who had been GM employee his entire adult life, had only had the job since March 30, 2009, when the Obama administration asked for the resignation of Rick Wagoner as one of the conditions for the government's bailout of the company. Wagoner had also been a GM-lifer.
But GM has brought in a number of top executives from outside the company and the industry since December, including chief financial officer Chris Liddell, who was recruited away from Microsoft (MSFT, Fortune 500).