Cisco sinks 10%, dragging down tech stocks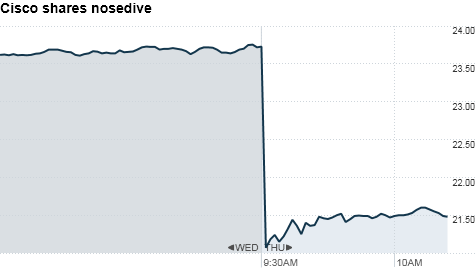 NEW YORK (CNNMoney.com) -- After missing Wall Street's sales expectations for the past quarter, Cisco saw its stock plunge 10% Thursday, bringing down much of the tech sector with it.
Networking companies bore the brunt of the drag-down, including Juniper Systems (JNPR), which fell 7%. Shares of Alcatel-Lucent (ALU) dropped 2%, and F5 Networks (FFIV) and Riverbed Technologies (RVBD) fell 6%.
Cisco supplier Netlogic (NETL) fell 8%, with share volume almost five times higher than average, according to Nasdaq.
Hewlett-Packard (HPQ, Fortune 500), which recently scooped up Cisco's networking competitor 3Com, fell just over 1%.
When it reported fourth-quarter earnings late Wednesday, Cisco (CSCO, Fortune 500) said its profit rose 79%, beating analysts' forecasts. Sales rose by 27%, falling just $40 million short of expectations.
What worried Wall Street analysts was Cisco's outlook for the current quarter: The company said it expects revenue to rise between 18% and 20% in the current quarter from last year's results, slightly lower than the increase of 21% analysts had forecast.
Even though the company is reporting healthy results, the lower-than-expected guidance renewed fears of a slowdown in the global economy.
Other tech stocks fell as well. The Nasdaq Composite Index (COMP), which some use as a gauge for the tech sector as a whole, fell 0.7% Thursday, about double the drop in the Dow Jones industrial average (INDU) and the broader S&P 500 index (SPX).
Several tech stocks actually rose on Thursday. After getting creamed by investors over the past two days on downgrades, chipmakers Intel (INTC, Fortune 500) and AMD (AMD, Fortune 500) both rose about 1%. Verizon (VZ, Fortune 500) jumped 2%, and AT&T (T, Fortune 500) rose about 1%.
Shares of RIM (RIMM) fell 2% on Thursday after India issued an ultimatum to BlackBerry maker Research In Motion. The Indian government said RIM has until August 31 to give the government access to information relayed on two popular messaging services. After that, India said it would take steps to block the encrypted messaging systems that the government says pose threats to the country's national security.
-- CNN Wires contributed to this story