10-year yield hits 16-month low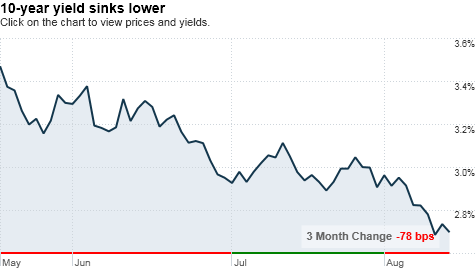 NEW YORK (CNNMoney.com) -- The 10-year yield hit a 16-month low on Friday as worries about an economic slowdown lingered and investors remained cautious going into the weekend.
What yields are doing: Demand for safe-haven Treasurys dragged the yield on the benchmark 10-year note to 2.68% Friday from 2.75% late Thursday. Bond prices and yields move in opposite directions.
Friday's level was the lowest since April 2009, said Bill Larkin, portfolio manager at Cabot Money Management.
Meanwhile, the yield on the 30-year bond fell to 3.87% from 3.95%, while the yield on the 2-year note slipped to 0.54% from 0.55% late Thursday.
What's moving the market: Struggling stocks, lackluster economic data and fears of a slowing economic recovery all boosted the appeal of Treasurys on Friday.
A report from the Commerce Department said July retail sales edged up 0.4%, missing economists' forecasts of a 0.5% gain.
The University of Michigan Consumer Sentiment Index for early August rose to 69.6 from 67.8 the previous month, also just missing expectations.
The Labor Department said its July Consumer Price Index, a key measure of inflation, edged up 0.3% in July, slightly more than the 0.2% rise economists expected.
What analysts are saying: "The belief that we're in this stagnating growth phase, which is based on the idea that higher taxes and more uncertainty are going to limit growth, makes the Treasury market a lot more attractive," said Larkin.
The fact that the yield on the 10-year note is hovering under 3% is a very bad sign for the economic outlook, and if investors don't become more confident, the yield could sink even lower, he said.
"When yields get this low, it means trouble, and alarm bells should be going off in investors' minds," said Larkin. "A lot of people are betting that the economy's not going to get enough steam, which is leading to frustration, confusion and impatience."