Stocks end lower for 4th straight day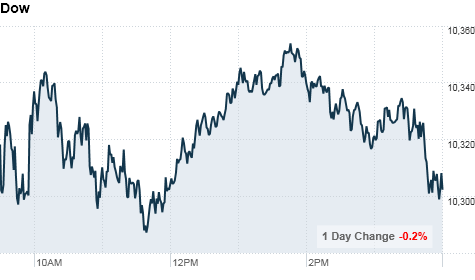 NEW YORK (CNNMoney.com) -- Stocks ended lower Friday, the fourth consecutive day of declines, as investors digested dour economic reports in the retail and consumer sectors.
The Dow Jones industrial average (INDU) fell 17 points, or 0.2%, to end at 10,303.15. The S&P 500 (SPX) lost 4 points, or 0.4%, to settle at 1,079.25 and the Nasdaq (COMP) fell 17 points, or 0.8% to close at 2,173.48.
All three indexes had been trading on either side of breakeven in morning trade.
"It's low-volume season, also known as August," said Kim Caughey, senior equity analyst at Fort Pitt Capital Group. "Traders are on vacation, and we get some pretty crazy reactions -- or lack of reactions -- because of that."
The retail sales and consumer sentiment data "go hand-in-hand and provide a clearer picture on the mood of consumers and how they're spending," said Peter Cardillo, chief market economist at Avalon Partners.
Stocks closed lower for a third straight session Thursday, as investors digested an unexpected rise in jobless claims and Cisco Systems' (CSCO, Fortune 500) cautious outlook.
After slight gains Monday, all three stock indexes closed lower from Tuesday to Friday amid a raft of downbeat economic reports and some tepid earnings results.
Stocks were also under pressure throughout the week after a Tuesday report from the Federal Reserve, which gave its most bearish outlook in more than a year and said the economic recovery is weakening.
The Dow lost 3.3% over the week, the S&P fell 3.8% and the Nasdaq plummeted 5%.
Retail takes a hit: A report from the Commerce Department said that July retail sales gained 0.4%, just missing economists' forecasts.
Retail shares felt an extra blow when several companies released disappointing reports.
JCPenney (JCP, Fortune 500) was down almost 4% after it forecast a full-year profit below Wall Street expectations. Nordstrom (JWM) was still off more than 6% after its late-Thursday earnings report showed higher inventories.
Economy: The University of Michigan Consumer Sentiment Index for early August rose to 69.6 from 67.8 the previous month, just missing expectations.
The Labor Department's July Consumer Price Index, a key measure of inflation, snapped a 3-month streak of declines and ticking slightly higher than economists expected.
A report released later in the morning showed business inventories had edged up 0.3% in June.
Companies: IBM (IBM, Fortune 500) said it will purchase software firm Unica for $480 million, offering a whopping 120% premium for the marketing analytics company.
General Motors is expected to announce a stock offering as early as Friday to bring the company public again -- a day after the automaker said that it is getting its fourth CEO in just under 18 months.
Dell (DELL, Fortune 500) was accused of refusing to comply with court orders to reveal secret documents in an ongoing dispute with client Advanced Internet Technologies over allegedly faulty computers.
Supermarket company A&P (GAP, Fortune 500) said it will close 25 stores in five states.
World markets: Markets in Asia ended mixed. The Shanghai Composite rallied 1.2%, while Japan's benchmark Nikkei index rose 0.4%. The Hang Seng in Hong Kong ended the day down 0.2%.
European shares rallied earlier in the morning following strong economic growth in the region, but indexes ended mixed. Germany's DAX fell 0.4%, while the CAC 40 in France dropped 0.3%. The FTSE 100 in Britain turned up 0.2%.
The German economy, Europe's largest economy, grew at its fastest pace since reunification in 1990 in the second quarter of the year, up 2.2%.
Currencies and commodities: The dollar gained against the euro, the U.K. pound, but fell versus the Japanese yen.
Oil futures for September delivery fell 35 cents to settle at $75.39 a barrel.
Gold futures for December delivery fell 10 cents to settle at $1,216.60 an ounce.
Bonds: Prices for Treasurys were higher. The 10-year yield hovered near a 16-month low of 2.69% on Friday from 2.75% late Thursday. Bond prices and yields move in opposite directions.