Stocks in for summer slip 'n' slide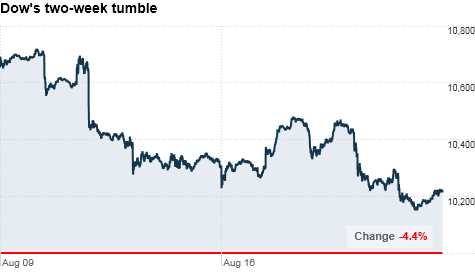 NEW YORK (CNNMoney.com) -- Stocks are likely to face another choppy, downtrodden week, but that's no big surprise.
It's the end of the summer, trading volume is light, and even though company earnings are generally strong, dismal economic reports have been kicking fears of a second-half slowdown into higher gear.
Add a little uncertainty about Bush tax cuts, interest rates and the logistics of financial regulatory reform to the mix, and investors are jittery to say the least.
"We know the economy is not suffering from a lack of money or liquidity. What the economy is desperately short of is confidence and visibility and the willingness to take risk," said Adrian Cronje, chief financial officer of investment firm Balentine.
The markets are coming off two weeks of losses as traders have been struggling to find a balance between upbeat company news and downtrodden data on jobs, manufacturing, and other economic indicators.
On one hand, the positive: A slew of mergers and acquisitions announced last week shows companies are ramping up their capital spending, which is a sign that they're preparing for better times.
Earlier this week, mining giant BHP Billiton's (BHP) $43.8 billion unsolicited bid for Canadian fertilizer-maker Potash Corp. (POT) was the biggest deal this year, bringing weekly M&A volume to $89.8 billion.
And on Thursday, Intel (INTC, Fortune 500) agreed to buy security software maker McAfee (MFE) for $7.68 billion, in what would be the chipmaker's biggest acquisition ever.
Historically, August is a slower month for M&A activity but last week's total is the largest of any August week in four years, according to Thomson Reuters.
On the other hand, the negative: The headline economic indicator continues to be jobs, and the news there has been grim at best. The number of first-time filers for unemployment benefits surged to a 9-month high last week and has been stuck in the mid- to higher 400,000s since November.
Economists are looking to see that weekly number of first-time filers tick down to 400,000 or lower before they're truly convinced a recovery is underway. They'll be closely watching for the government's most recent jobs data on Thursday.
Cronje is not predicting particularly bad or good news for jobs this week, but if the numbers disappoint, watch out: "Any sign of the job market getting even worse from here will be taken badly," he said.
On the docket
Monday: No economic reports are on tap.
Tuesday: The July report on existing homes sales from the National Association of Realtors is due during morning trading Tuesday. Sales of existing homes fell 5.1% in June to a 5.37 million-unit pace -- a sign of renewed turbulence in the housing market. Economists polled by Briefing.com are expecting July to show another slowdown in sales, down to 5.14 million.
Wednesday: The Commerce Department reports data on durable goods orders -- a measure of products meant to last at least three years, such as cars and computers.
Recovering after the recession, orders rallied more than 20% between March 2009 and April 2010. But the measure has posted back-to-back declines for the last two months. Economists are forecasting a 3.4% increase for July.
They're also waiting for the latest figures on new home sales, which are expected to show a slight uptick to 338,000 in July, up from 330,000 the month before.
Thursday: The government releases its weekly numbers on first-time unemployment filers. Last week, stocks took a hit when the number increased dramatically to 500,000 initial claims.
Friday: The government's revised reading on gross domestic product is due on Friday.
GDP is the broadest measure of the nation's economic activity. Economists surveyed by Briefing.com are expecting the government to revise the number to 1.4%, showing a significant slowdown from its previous reading of 2.4%.