What's missing for back-to-school? 135,000 teachers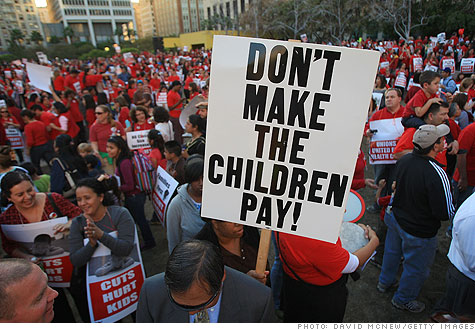 NEW YORK (CNNMoney.com) -- More children are crowding into classrooms in Modesto, Calif. Parents are paying extra to send their kids to full-day kindergarten in Queen Creek, Ariz. And the school buses stopped rolling in one St. Louis area school district.
These are but a few of the unwelcome changes greeting children as they start the school year. Tight fiscal times are forcing school districts to lay off teachers, enlarge class sizes, cut programs and charge for services that were once free.
"School districts are going to be stripped down from what there were a few years ago," said Jack Jennings, head of the Center on Education Policy, an advocacy group. "They are really feeling the economic squeeze."
The national economic downturn has sucked state coffers dry, forcing cuts to school districts and municipalities. The Obama administration's stimulus package softened the impact, but many districts still found themselves having to downsize.
"Every student is being affected in some way or another," said Dan Domenech, executive director of the America Association of School Administrators.
Teachers are experiencing the brunt of the budget cuts this year, even though Congress last week gave states an additional $10 billion to keep an estimated 140,000 educators and support staff employed.
Still, the number of teachers who won't have a job this school year could be as high as 135,000, experts said.
While grateful for the federal funds, school officials are not sure they will be able to use it to bring back many teachers this year. Many states have yet to say how they will distribute the money and many districts have already started or set up their class schedules.
Some plan to use it to hire tutors, counselors and non-core classroom educators such as art and music teachers. But others say they may hold onto the money until the next school year, when the last of the stimulus money is set to disappear.
"We're all looking ahead over the next couple of years and not seeing any respite," said Chris Nicastro, Missouri's commissioner of education.
More kindergarteners per class
The great wave of layoffs means students will have to share their classrooms -- and their teachers' attention -- with more of their peers.
In California, for instance, state education officials have approved 23 requests from local districts to increase their average class sizes beyond the maximum allowed. At least 33 more are scheduled to be reviewed in coming months.
This is quite a change from the previous decade, when the state received no requests.
"It's rising exponentially," said Judy Pinegar, manager of the waiver office at the California Department of Education.
Facing a $25 million budget gap for this year, Modesto City Schools district officials decided to raise the average class size in kindergarten through third grade to 25 kids, up from 20.
The school district was initially looking to lay off one-third of its teachers, or 500 people. But after educators agreed to give up their raises and some retired, only 50 teachers were not rehired for this school year.
Still, the larger class sizes will have an impact, said Megan Gowans, executive director of the Modesto Teachers Association.
"Students are going to feel that they are getting less one-on-one attention," she said.
Neighboring Sylvan Union School District now has elementary school classes with up to 34 students in them. That's 12 more than the average size last year. The elementary schools now only have one librarian and no dedicated art teachers, when there used to be four of each. In all, there are 19 fewer educators on staff, said Superintendent John Halverson.
The district has gone so far to combine several grades, teaching kindergarten and first graders and first and second graders together for the first time in recent memory.
These moves allow school officials to keep some classrooms dark, helping close a $5 million gap in its $60 million budget. But the changes won't go unnoticed.
"I can't say it won't have an impact because I think it will," said Halverson, who has been in the California school system for 33 years.
Paying for programs
Elsewhere in the nation, school districts have cut back on programs and services or are charging for them.
Take Queen Creek, a small town 38 miles southeast of Phoenix. When the state cut funding for full-day kindergarten programs, Queen Creek took a $900,000 hit, but decided to continue offering it...at a price. Parents have to pay $200 a month to enroll their 5-year-olds.
"Our community was used to having it," said Shari Zara, the district's chief financial officer. "We thought we'd still offer it for those who could pay."
Some 122 kids signed up for the extended program, while another 216 are in the free half-day class. Charging tuition spared the district from having to cut teachers or programs, Zara said.
Busing is another area that has taken a hit in scores of districts.
In the Bayless school district in the St. Louis area, for example, the board and administrators decided to eliminate bus service instead of laying off staff and raising class sizes beyond the current 25 to 30 per room. The decision affects about 650 of the district's 1,650 students and saves $240,000 a year, said John Stewart, chief financial officer.
Getting rid of transportation helped close the roughly $650,000 gap in the district's $14 million budget. Employees also agreed to pay more toward their health insurance.
"We wanted to impact the classroom and educational process as little as possible," Stewart said.