Bidding war between HP and Dell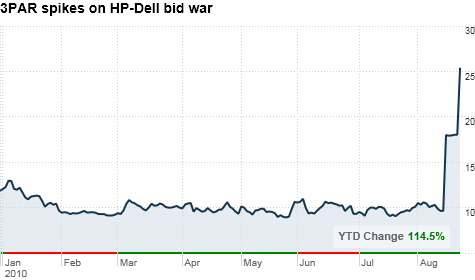 NEW YORK (CNNMoney.com) -- Hewlett-Packard said Monday it has submitted a bid to acquire data-storage company 3PAR for $1.6 billion, a 33.3% premium to the offer proposed by HP rival Dell last week.
HP offered to buy all of the outstanding common stock of 3PAR for $24 a share in cash, calling it "substantially superior" to the $18 per share offered by Dell, which is valued at $1.15 billion. Shares of 3PAR (PAR) closed at $18.04 Friday, and were up nearly 40% to $25.23 in early morning trading Monday.
In addition to upstaging Dell's offer, HP's bid is also higher than an earlier bid it had submitted for the company.
During a conference call with investors, HP's executive vice president Dave Donatelli said HP had been in conversations with 3PAR about doing a deal prior to Dell's agreement to buy the company last week, but would not comment on the original bid's value. In its letter to 3PAR's chief executive, HP said it is proposing "to increase our offer."
Shares of HP (HPQ, Fortune 500) were down about 1% Monday morning, while Dell's (DELL, Fortune 500) stock was up nearly 1%.
Dell spokesman David Frink said the company would not comment on HP's offer. But the fact that 3PAR shares quickly rose above HP's offering price of $24 a share could be a sign that investors believe Dell will sweeten its bid.
3PAR did not have a comment on HP's offer early Monday.
The bidding war emerges as both tech giants face leadership challenges.
Earlier this month, HP said CEO Mark Hurd would be stepping down following sexual harassment claims against him and the company. HP's chief financial officer Cathie Lesjak is serving as interim CEO but the company has made no mention yet about its CEO succession plans.
Meanwhile, a sizeable number of Dell investors showed their disdain for CEO and company founder Michael Dell by withholding their support for him at the company's recent shareholder meeting. That meeting took place just weeks after the computer maker settled a fraud case with the SEC.