100-plus tax breaks on the line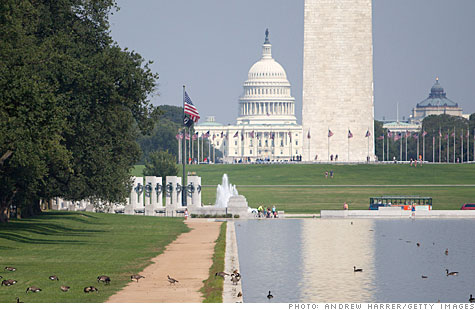 NEW YORK (CNNMoney.com) -- When it comes to putting off assignments, college students have nothing on Congress.
Case in point: Lawmakers have yet to decide the fate of more than 100 tax breaks that either already expired at the end of 2009 or will expire by the end of this year.
Leaving big tax decisions to the fourth quarter isn't unusual: Congress often waits for "the two-minute warning" before voting on so-called tax extenders, tax expert Ed Kleinbard said.
"The process is frustrating on a lot of levels," said Kleinbard, a law professor at the University of Southern California and a former chief of staff at the Joint Committee on Taxation.
But that frustration is likely to be more widespread this year because more of the general public will be affected.
In addition to the usual extenders that regularly get renewed -- such as a research and development credit for companies or an optional state and local sales tax deduction for individuals -- lawmakers will be fighting over the Bush tax cuts.
The Bush tax cuts, which account for about 30 of the provisions expiring on Dec. 31, are the big ticket items. They would cost anywhere from $200 billion to more than $3 trillion over 10 years depending on how they're extended.
But other large individual items include the stimulus-related Making Work Pay Credit, which President Obama has proposed making permanent, at a cost of $42 billion. All told, 21 expiring tax breaks are tied to the Recovery Act, and many are likely to be allowed to expire since they were temporary measures to combat near-term economic conditions.
From the roster of usual suspects, the R&D credit is the largest, costing close to $7 billion.
Since it's a major election year in Washington, with hundreds of lawmakers trying to hold on to their seats, it's possible that many of the tax measures won't be decided until after Nov. 2 by a lame-duck Congress.
"For individuals, the largest problem is the sheer magnitude of the uncertainty," said Clint Stretch, managing principal of tax policy at Deloitte Tax LLC. "Is the qualified dividend rate going to be 15%, 20%, 39.6% or something else? Answer: Yes. Are capital gains going to be taxed at 15% or 20% or something else? Yes."
But for businesses, he said, "they're sort of used to [the uncertainty]."
The cost of delay
The uncertainty makes tax planning difficult and could be harming the economy.
"If you believe these tax breaks are useful programs, you significantly undercut their utility by creating an environment where taxpayers don't know for sure if they can rely on them. You undercut their economic value," Kleinbard said.
In other words, taxpayers are not really sure how much money they will have to spend and invest. And, Kleinbard explained, last-minute congressional action creates a stampede effect as businesses rush to take advantage of newly renewed tax breaks. That, in turn, can lead to a boom-and-bust cycle in business orders.
Secondly, passing the extenders wholesale at the last minute means there's no time to assess which tax breaks are working.
"It's not at all clear the subsidies are well targeted or successful," Kleinbard said.
One important issue that also gets lost in the rush: Tax breaks are really a form of spending, tax experts say, but aren't subject to as much scrutiny.
And with mounting worry over U.S. debt, there's increasing concern that every dollar spent be spent well.
On the bright side, Congress' annual tax-extender jig may eventually become a thing of the past.
Tax policy experts and deficit hawks have long argued that an overhaul of the income tax code is needed. And a major part of the overhaul would be to lower tax rates overall while simultaneously limiting the size and total number of tax breaks in the code.
Those breaks have increased in number 4-fold since 1972. And altogether, they cost approximately $1.2 trillion in forgone revenue, which is close to a third the value of the entire federal budget.