Treasury yields hold near 19-month lows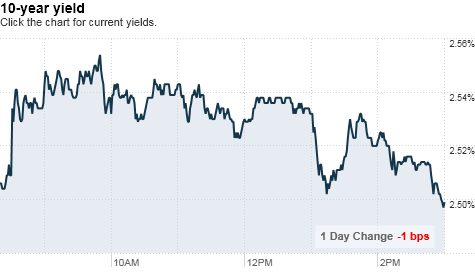 NEW YORK (CNNMoney.com) -- Treasurys yields fell Thursday after the government sold $29 billion in 7-year notes one day before a key report on U.S. economic growth and a highly-anticipated speech by the chairman of the Federal Reserve.
The benchmark 10-year note yielded 2.49% at 4 p.m. ET in New York. That's down slightly from 2.54% late Wednesday and near the lowest level since January 2009.
The yield on the 2-year note was 0.52%, close to an all-time low, while the 5-year yield slid to 1.38%. The yield on the 30-year bond fell to 3.52% from 3.57%.
Treasury yields rose modestly earlier in the day after a better-than-expected data on weekly jobless claims helped ease concerns about the economy. But the positive sentiment faded in the afternoon as investors braced for the latest reading on the nation's economic growth and a statement from Fed chief Ben Bernanke on Friday.
Meanwhile, the government sold $29 billion in 7-year notes in the last of three auctions this week totaling $102 billion. The bid-to-cover ratio, which measures demand, was 2.98 at Thursday's auction. That's up from the last 7-year sale in July.
Looking ahead, a revised reading on U.S. gross domestic product is expected to show Friday that the nation's economy grew at an annual rate of 1.4% in the second quarter, according to consensus of economists surveyed by Briefing.com. That's down sharply from the previously estimated 2.4% growth rate.
Also on Friday, Bernanke is expected to speak at an annual meeting of central bankers in Jackson Hole, Wyo. It is not known what he will discuss, but investors are eager to hear the Fed chief's view on the health of the economy and what the Fed might do to stimulate activity.
Treasury yields fell sharply earlier in the week on disappointing housing data. Sales of new and existing homes sunk last month, raising fears about the outlook for the U.S. economy.
Many investors view Treasurys as a safer alternative to more risky assets such as stocks. As a result, prices for U.S. bonds and notes often rise, pushing yields lower, when investors are more concerned about safety than profits.