Economy slowing to a crawl -- or a halt?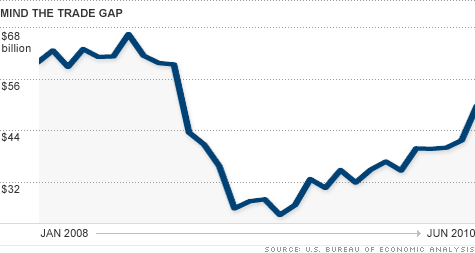 NEW YORK (CNNMoney.com) -- The economy is losing momentum. You know it. I know it. Federal Reserve chairman Ben Bernanke knows it.
Now that we've gotten that out of the way, it's time to explore some important questions about the economy. How much is it slowing? And why is the recovery losing steam?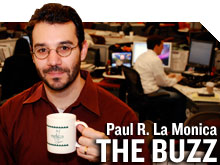 First, let's look at the economy's diminishing velocity. The government reported last month that the gross domestic product for the second quarter rose at a relatively tame annualized pace of 2.4%. That's down from 3.7% in the first quarter and 5.0% in the fourth quarter of last year.
But that 2.4% rate is probably giving the economy too much credit. On Friday morning, the government will release its first revision of GDP and economists surveyed by Briefing.com are forecasting that the growth rate will be lowered a full-percentage point to 1.4%. That's a drastic cut.
Ray Stone, chief economist with Stone & McCarthy Research Associates in Princeton, N.J., said that the main reason the economy appears even weaker now than just a month ago is that the manufacturing sector is losing ground.

A rebound in the manufacturing sector that started last year thanks to healthy foreign demand for U.S. goods helped to lift GDP in the latter half of 2009 and the first quarter of this year.
But Stone said it looks like the increase in inventories during the second quarter of 2010 is slower than first thought, which would be a drag on GDP. In addition, the trade deficit in June rose to $49.9 billion as exports slipped. That figure had not yet been reported when the first estimate for second-quarter GDP was released.
For that reason, Stone estimates that GDP in the second quarter was only up a 1.1% annualized pace.

"Exports were much weaker than predicted. Activity has slowed. It looks like the recovery that began in the middle of 2009 has lost momentum since then and the economy is just barely staying in positive territory now," Stone said.
What's even more troubling about the export slowdown is that the manufacturing sector had been one of the few pockets of strength in the job market lately. According to the government, the sector has added 183,000 jobs since December 2009.
"The manufacturing sector has been the driver in the recovery, but that growth has stalled. That's unfortunate because ultimately, manufacturing has been a growth engine for employment," said Bruce Yandle, an adjunct professor of economics at Mercatus Center at George Mason University in Arlington, Va.
There may be a very small glimmer of hope in the second-quarter GDP report though. If businesses are slowing the pace of their inventory buildup in the face of waning export demand, that could, in theory, lead to stronger growth in the third quarter and fourth quarter if companies ramp up again ahead of the crucial holiday shopping season.
But that may be asking a lot from consumers. Many have reined in their spending already and it's reasonable to think they will continue to do so as long as the housing market remains weak and unemployment stays high.
"In terms of where the economy heads from here, it's all about the consumer," said Rob Lutts, chief investment officer at Cabot Money Management Salem, Mass. "It's going to be a gradual, grinding, frustrating recovery. It won't be horribly bad but it's not going to be as good as people want."
What's more, the terrible housing sales numbers for July reported this week could very well put a damper on GDP in the third quarter.
"You can't reasonably expect much contribution to growth from the housing market this year or next year," said Yandle.
So is there anything the Federal Reserve can do to get the economy back on track? It's already pledged to buy more long-term Treasury bonds to keep rates low.
Some are hoping that Bernanke will give more details about an economic rescue plan when he speaks at a Kansas City Fed conference in Jackson Hole, Wyoming Friday morning after the GDP number comes out.
But it's unlikely Bernanke will do anything more than state the obvious or he risks further spooking an already nervous market.
"It's a subpar recovery and we're too close to zero growth. It looks like the economy can't stand on its own two feet," said Linda Duessel, equity market strategist with Federated Investors in Pittsburgh. "But Bernanke is going to stick to his message and probably say that we're seeing a weakening economy and that the Fed is there to do what it can."
- The opinions expressed in this commentary are solely those of Paul R. La Monica. Other than Time Warner, the parent of CNNMoney.com, La Monica does not own positions in any individual stocks.