Auto sales: Worst August since 1983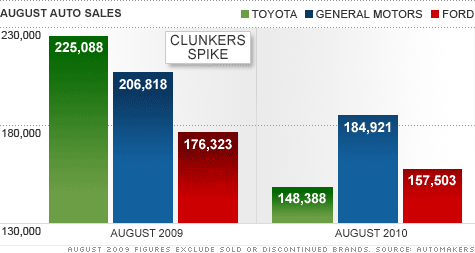 NEW YORK (CNNMoney.com) -- The nation's top automakers reported disappointing sales Wednesday, resulting in the worst August for industrywide auto sales in 27 years.
According to sales tracker Autodata, U.S. new vehicle sales fell just short of 1 million vehicles, a drop of 21% from a year ago, which included Cash for Clunkers. That federal program created a sugar rush of sales by dangling an incentive of up to $4,500 in cash for buyers who traded in older gas guzzlers for more efficient models.
Industry sales also fell 5% from July levels. August sales typically outpace July, as deals become available on older models ahead of the fall introduction of new model year cars. August sales would equate to an annual sales pace of about 11.5 million vehicles.
"Car buying is far from repaired, and consumers hesitate before they make a big ticket purchase," said Jesse Toprak, an analyst with the auto pricing Web site Truecar.com. "It shows that the recovery is going to be much slower and more painful than expected."
This year was the weakest August sales total since the 993,100 sold in 1983. Analysts had been forecasting a weak month, with expected sales of about 1.03 million. Most of the major automakers fell short of estimates. The soft demand for autos is seen by economists as another sign of growing weakness among nervous consumers.
GM sales toppled 25% from a year ago, partly because of comparisons to the Cash for Clunkers program of last summer. The federal program created a sugar rush of sales by dangling an incentive of up to $4,500 in cash for buyers who traded in older gas guzzlers for more efficient models.
But it wasn't all Clunkers. August's sales also dropped 7% from July and fell short of forecasts from sales trackers Edmunds.com and TrueCar.
GM officials echoed that they are seeing a tougher environment for car sales.
"We are realistic. We do think that consumers will continue to be cautious in their spending," said Don Johnson, GM's vice president of U.S. sales.
GM did not get as much of a lift from Cash for Clunkers as some of its rivals. But its sales comparisons were hurt by the nearly 40,000 vehicles it sold a year ago at four brands it has since discontinued or sold -- Pontiac, Saturn, Hummer and Saab. Sales at its four continuing brands -- Chevrolet, Buick, GMC and Cadillac -- fell only 11% from a year ago.
Ford (F, Fortune 500) reported an 11% drop from year-ago sales levels and a 5% decline from July. It also missed forecasts from Edmunds and TrueCar.
Most of the decline in sales were concentrated in its Focus compact sedan and its Escape small SUV, which were the company's best two sellers in the Cash for Clunkers program a year ago.
Ford announced that it made a slight trim in its fourth quarter production target, to 570,000 vehicles from 574,000 a year ago -- a sign that Ford's strong sales gains may be starting to level off in the face of softening demand for automobiles.
"Sales were weaker than expected. Right now auto sales seem to be moving horizontally," said Ken Czubay, Ford vice president of U.S. marketing, sales and service.
Japanese automaker Toyota Motor (TM), which had been the biggest winner in Cash for Clunkers sales a year ago, suffered the hardest hit to sales among the largest automakers -- sales plunged 34% from a year ago, and 12% from July.
"This month's [Toyota] results are even worse than expected," said Michelle Krebs, senior analyst with Edmunds. "Toyota still is suffering a hangover from its numerous recalls this year. It is taking a long time for Toyota to get back to 'business as usual.'"
Sales at Honda Motor (HMC) plunged 33% from a year ago, and 3% from July falling short of forecasts. Nissan sales tumbled 27% from a year ago and 7% from July.
Chrysler Group, which includes the Chrysler, Dodge and Jeep brands, was the only one to report a modest gain in August sales, posting a 7% gain compared to both a year ago and July. But the year-over-year bar wasn't terribly high, as Chrysler got the smallest sales lift of any major automaker from the Clunkers program.