Ferrari recalls $230,000 458 Italia supercar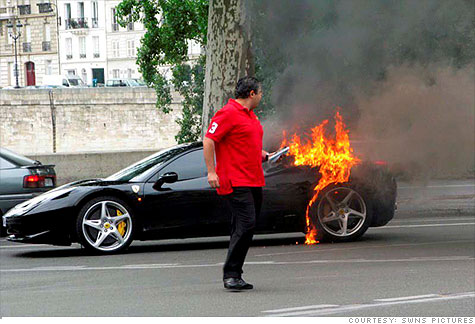 NEW YORK (CNNMoney.com) -- Ferrari is recalling its new 458 Italia model after several vehicles were reported to have burst into flames.
A Ferrari spokesperson told CNNMoney.com the luxury supercar is being recalled in order to make modifications to the wheelhouse assembly.
"In rare instances the heat shield could become deformed, bringing it too close to the exhaust system and igniting," a Ferrari spokesperson said.
Ferrari is recalling all its 458 Italia vehicles after five fires were reported in California, Switzerland, China and France.
Deliveries of the car in the U.S. began this summer. It has a 4.5-liter 8-cylinder engine, 7-speed automatic transmission, 570 horsepower and has a base price around $230,000.
Ferrari said the company is asking owners of the cars produced before July 2010 to bring them in to have the glue replaced with mechanical fasteners.
The National Highway Traffic Safety Administration released a statement saying Ferrari's Italian headquarters had told its North American division about the recall. NHTSA warned that if the adhesive ignites it could "render the vehicle inoperable and possibly result in a crash."
The NHTSA statement said 303 vehicles are being recalled, and owners could be eligible for reimbursement for if they spent money on repairs related to the problem before the recall was announced.
Ferrari North America will start notifying affected customers within two weeks, NHTSA said.
Last week, Britain's Sky News site said drivers of the 458 Italia were "fearing they are jinxed after 10 of the vehicles crashed or caught fire within three months ... It is not thought that the 458 design has a fault, just that the owners have been unusually unlucky."